I'm not really into the whole anniversary tribute school of popcult writing. It's a bit too low-hanging for my tastes and generates a slew of half-assed hot takes by folks whose experience of the item in question tends to be after-the-fact backfiller. You shouldn't need some arbitrary temporal milestone to shine the spotlight on a worthy subject.
Also, I'm at an age where "can you believe such-and-such happened TEN YEARS AGO" is met less with wonderment than a sobering reminder of my fleeting mortality.
That said, this week did mark the twentieth anniversary of a pair of videogames with some profound personal resonance, so I felt some words were in order.
Maura landed her first grown-up, unionized job in the late fall of 1996. It was a big event, and one that I celebrated by pestering her into buying me a Sega Saturn for Christmas. To my shock (and guilt and eternal gratitude), she actually went ahead and did it.
The system came with a three-disc pack-in of Virtual Cop 2, Virtua Fighter 2, and Daytona USA. They were a perfect starter selection, but I still hankered for some next-gen JRPG kicks. The Saturn's library of such titles was already thin on the ground domestically, and the scarcity was made more pronounced by the holiday season clean-out of retailer's shelves. With nothing I wanted in stock locally, I decided to pick up an issue of EGM to see if mail order would be a better option.
It was, on two unanticipated (and expensive) fronts. The mail order firms who advertised in the mag's back pages also dealt in the realm of import titles — untranslated RPGS and licensed offerings that could be playable on a domestic Saturn by way of a modestly priced Action Replay adapter. My anime fandom hadn't yet atrophied at that point, and the notion of playing a Gundam-themed FPS or Macross shoot-em-up was too great a temptation even with the import surcharge.
That particular issue of EGM also featured glowing reviews for the first Suikoden and Persona games, which was enough to sink a chunk of my limited budget into a Playstation a week later. To finance all this electronic extravagance, I took a seasonal job at my wife's office. In between opening and sorting buckets of mail, I dicked around on the office's fancy Netcape-enabled machines to check out the latest gaming news on sites like Sega Sages and Anime Playstation. The latter one was especially influential because it's import-heavy focus nudged me toward the moment where the two fronts converged — the purchase of a mod-chipped, import-ready PS console.
I bought it from some importer on the West Coast that used the Footloose soundtrack as its "on hold" music. The part of my brain that housed my common sense and fiscal prudence blared warnings during every moment of the phone call, but they were drowned out by the siren song of the irresponsible impulse buy.
A week passed, and I began to think I should've listened to those inner warnings. And then it arrived, with the pair of import games that sold me on this overpriced hunk of legally dodgy block of tech — Bushido Blade and Dracula X: Nocturne in the Moonlight (a.k.a. Castlevania: Symphony of the Night). Both were recent releases and the stuff of much online hype, a lot of centering around the low probability of either getting a domestic release.
I booted up Nocturne in the Moonlight first, but switched to Bushido Blade after Lil Bro and his friend showed up to check out my new acquisition. We spent the rest of the afternoon and most of the evening engaged in digital sword battles, our initial awkwardness with the game's controls progressing into a Zen-like mastery of their intricacies.
We'd had marathon SNES Street Fighter II sessions before, but this was different. Bushido Blade wasn't about mastering complex inputs or stringing combos. Its one-hit-kill take on the genre was an addictive mix of rock-paper-scissors and a gunslingers' duel. Winning was a matter of fast reflexes and adopting the correct stance, and a match could be settled in the first couple of seconds (providing Lil Bro didn't block my disembowelment two-stroke in time).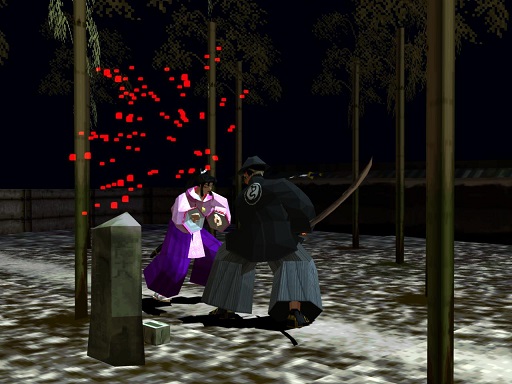 The game also oozed with atmosphere, down the minimalist soundtrack and interconnected arenas representing a Japanese castle. Hacking away at each other in a bamboo grove, trees falling as their trunks get severed by stray swings — it was like taking part in a samurai flick. The decision to set it in contemporary times was a bit baffling, but the overall package was something we'd never seen before and made all other fighting games feel silly by comparison.
And Nocturne in the Moonlight? It's up there with Baldur's Gate II and Dig Dug as my favorite videogame of all time, though it took me a while — and many visits to txt-file FAQ sites — to get a handle on what I was supposed to be doing in its Japanese-text expanse. The game is responsible for the latter half of the "Metroidvania" portmanteau, but it's really in a genre apart from the more tightly channeled Metroid games (which I love) and the later GBA/DS simplifications of Nocturne's formula. The RPG leveling and inventory systems figure into that, but it has more to do with how the game managed to keep a tight focus yet an incredible level of optional depth.
I've beaten the game at least a dozen times. I make a point of revisiting it every time the Spooky Season rolls around. After two decades and hundreds of in-game hours later, each new playthrough reveals some little secret or bit of nuance I hadn't encountered before. Most exploration/collection offerings get tiresome after you discover a certain percentage of their secrets, but Nocturne still feels as fresh as it did back in 1997.
Bushido Blade and Symphony of the Night are permanent installs on my PSP, and my love for both games has survived the years and unceasing torrent of newer and cooler tech. But there more to it than being a pair of evergreen diversions. Of all the games I squandered my time on during that era, those are the two that most lucidly evoke that period of my life — social sword-slashing gatherings around my shitty 13″ TV and late nights spent trying to work out what wizardry would unlock the Inverted Castle.
It was the end of my extended undergrad experience and the beginning of a life free of term papers and a decent amount of spending money. It only lasted four years before 9/11 and a cluster of other issues harshed the buzz, but it was golden while it lasted — comics-buying road trips with little bro, Seventies rock and Nineties electronica, Sunday afternoons lazing with Maura while watching grainy VHS dubs of Urgh! A Music War or some favorite MST3K episode for the umpteenth time.
On the surface, it sounds like a wheel-spinning "lost period," but it was an essential transition period where I was lucky enough to have the time and space to figure out the direction my life would take — and every virtual katana slash I make or Axe Knight I dispatch reminds of those great times and good fortune.