Here's where things start to get interesting (and by "interesting," I mean "an opportunity to re-tell a familiar story which gets less rose-tinted and more self-critical with every successive iteration.")
In the autumn of 1991, I leveraged the popularity of my Warhammer Fantasy Role Play campaign into a successful bid for president of UMass Boston's Sci-Fi Club. The idealist in me saw it as a way to dethrone the old guard geeks, who'd traditionally used org's positions of power to boss around and generally condescend to the younger crowd. The vain motherfucker in me saw it as a pretty laughable means of external validation, Otto the Sneering Punk Rocker finally laying to rest Andy the Grade School Paste Eater.
Regardless of my motivations, I did try to take the role somewhat seriously. My first initiative was an attempt to get the club members to do stuff instead of vegetating in the office between classes. I'm not talking about Peace Corps shit, but scheduling regular events and trips aimed at fostering a sense a friendship and community. The first test case was an outing to a Friday night screening of an animation festival at the Somerville Theater in Davis Square. Everyone (that mattered) seemed onboard for the idea, so tickets were purchased and plans were made.
My ascension to the presidency was accompanied by a sense of romance in the air — the real kind, not the ambiguous and usually one-sided business which marked my previous experiences. There was an older (22 to my 19) punky woman with a dark hair and streaked bangs I'd talked to on and off over the summer. There was the quiet bohemian gal from Iowa from my Intro to Drawing class. And there was the freshman art major who looked and talked like Ione Skye and started hanging around the club (due to a fellow member who was a high school classmate) shortly after the start of the semester.
The thing with the Iowa gal never made it past the first conversational hurdles, when it became obvious that we really had nothing in common. That left the dark-haired woman and the art major. I've never been particularly perceptive about picking up cues associated with the courtship business, and doubly so when trying my damnedest not to embarrass myself or risk possible rejection. Despite all the clues and repeated calls of "how can you NOT see it" from my pals, I could not believe that an older, cooler woman would want to have anything to do with me.
The guardedness turned out to be mutual, which tipped the scales in favor of the art major, who made her intentions entirely clear. On the afternoon before the festival, she accompanied a group of us into Davis Square to pick up the tickets. We stopped in Harvard Square on the way back. The other kids went off to get some lunch and comics, while she walked with me to Second Coming Records, where I picked up a used copy of the UK Subs' live In Action compilation.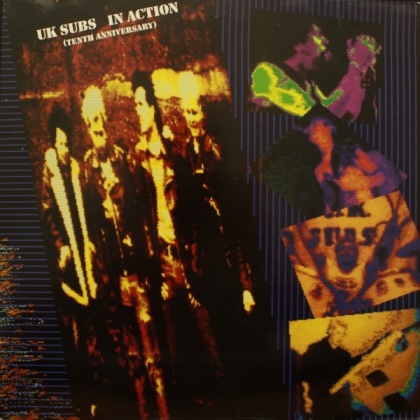 On the walk back to the subway station, I asked if she wanted to go out sometime. She said yes, and that's where things really became complicated.
Fun Fact: I haven't listened to or looked at In Action for over twenty-three years. You'll understand why over the next half-dozen installments of this series.