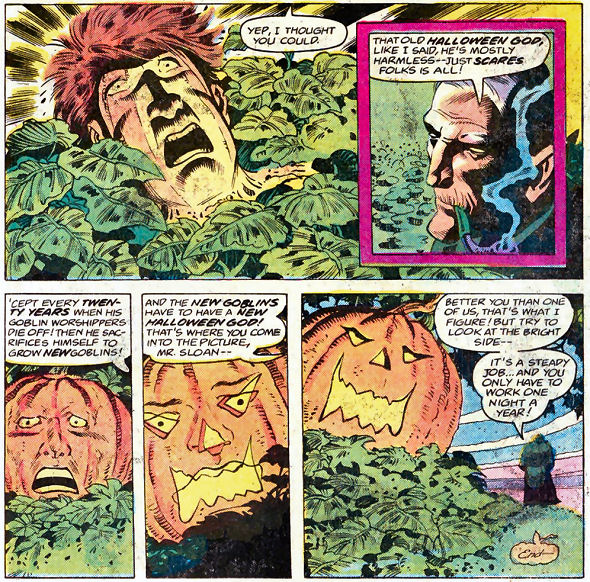 (from "The Halloween God" by Gary Cohn, Dan Mishkin and Adrian Gonzales in Secrets of Haunted House #44, January 1982)
All Hallows' Eve is upon us, and the time has come to bring the black velvet curtain down on this year's Grand Guignol.
It has been an Armagideon Time tradition to close out the Halloween countdown with a singular track which perfectly encapsulates the spooky season, and you can't get more singular than this macabre gem of a song…
Recommended listening: The Dark – The Masque (from a 1982 single)
Audio clip: Adobe Flash Player (version 9 or above) is required to play this audio clip. Download the latest version here. You also need to have JavaScript enabled in your browser.
It has become a staple of mass market "goth" compilations, but I first encountered it on the second Punk and Disorderly LP were it stood out among the audio examples of how rapidly the early 1980s Britpunk scene had burned itself out.
The odd thing is that nothing else band recorded sounded anything like it. They were a competent-to-mildly-interesting outfit in a crowded field of similar midtempo melodic poltical-punk acts that managed to catch a bolt of deathrock magnificence in a bottle.
It knocked my socks off when I heard it twenty five years ago, and it still gives me goosebumps when I listen to it today.
And on that note, it is time to dim the lights, bolt the doors, and await the dark dreams to come.