Unlike the other titles in DC stable of Bronze Age "horror" offerings, Ghosts plodded along under the conceit that it was a documentary account of various supernatural shenanigans. Whether inspired by urban legends, lifted from "true" accounts of the supernatural, or crapped out by desperate freelancer with a past-due electric bill, the stories in the series were framed as authentic re-enactments of utter bullshit.
It was an interesting approach, aimed at circumventing the Comics Code Authority's (recently eased) restrictions on horror-themed content while capitalizing on the contemporary mania for all things paranormal. From a narrative standpoint, however, it more often than not resulted in a weasel-worded mess that typically ended in some variation of "Did a ghost do that one thing that could totally be credited to some non-supernatural force? That's for YOU to decide, readers!"
Effective horror stories typically feature a steady escalations of read and dread, teasing and tantalizing the audience right up until the storyteller drops the boom with a shocking dose of poetic justice or ironic revelation. It's a formula the its shares with jokes, which makes sense when one considers that both formats emerged from oral anecdotal traditions. "Pull a chair up by the fire, and let me tell you" and all that jazz.
By pursuing a more documentary angle towards the material, the lion's share of the tales in Ghosts come off as flatly delivered and highly disjointed — presented "edutainment" which fails to be either educational or entertaining.
So it was with the dreadful "Devil's Own" in Ghosts #25 (April 1974), a garbled regurgitation of some Scottish folktale.
So there was this dude Ye Olde Edinburgh who used to visit the dying to offer them comfort, only his real purpose was to scare them to death with his Satanic walking stick and steal their shit.
But the story is not really about him, though, because his stick decided to go for evening flights around the city while he rode around in Satan's stagecoach. This causes the townspeople to burn him at the stake (offpanel) as a witch while his Cane of the Damned spits and hisses at them from the pyre.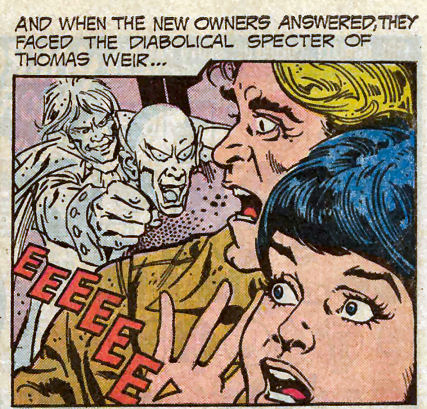 Then cut to two panels about the stick coming back to haunt folks, then some talk about Sir Walter Scott and a haunted mansion, and then the Demon Coach shows up alongside a caption that no one saw the stick ever again.
Wow, I don't know about you, but I have some serious goosebumps going on. Oh, that's right, my wife left the windows open to air out the house today and it's kind of chilly outside today.
I've read enough of these Bronze Age DC horror comics to have few illusions about their level of quality (apart from the occasionally exceptional artwork). What does amaze me is how effective they were at giving Young Andrew the chills despite their overall mediocrity.
They may not have been swinging for the bleachers, but they did consistently hit that sweet spot where my pre-teen fascination with spooky stuff met up with the masscult zeitgeist fixation with the supernatural. Craft counts, but timing and audience awareness are where the real numbers reside.
Recommended listening: Gothic Girls – Devil (from Lilac Dreams, 1984)
Audio clip: Adobe Flash Player (version 9 or above) is required to play this audio clip. Download the latest version here. You also need to have JavaScript enabled in your browser.
The "girls" part is a bit overstated.