It wasn't supposed to turn out this way.
When I bought a cheapo turntable in the autumn of 2016, the purpose was to revisit old favorites from the stacks of albums that had been relegated to storage crates in my attic. I had no desire to get back into buying records on a regular basis, especially since the fire sale days of the early Nineties have given way to huge markups and insufferable trendiness.
I didn't take into account, however, was how much the format shaped the overall listening experience. After a decade and a half of digital carte blanche and curated playlists, there was something soothing about tossing on a slab of vinyl and letting it spin from start to finish without cherrypicking via skip button. The lack of portability fixed me into a specific place and allotted times for listening, which sounds limiting but was actually liberating.
It made me want more. Two decades had passed since my vinyl collecting salad days and my tastes had shifted and broadened a good deal since then. There were countless cherished albums I'd passed over buying on record because of punk puritanism or the transition to compact discs or it never occurred to my twenty-something self that his 2017 incarnation would want a copy of Berlin's Pleasure Victim on vinyl.
Once I started on that road again, the stack of LP's on my entertainment center got thicker and higher and now brushes the bottom of the wall sconces on my living room wall. In my previous album-based features, I limited myself to a fixed theme based on "significance" or chronological order. As handy as those angles may have been in terms of focusing my thoughts, they tended to become restrictive and repetitive over the long haul. There's only so much one can say about mid-Seventies K-Tel compilations or identikit Oi releases.
Things are going to be different this time around, with the only criteria being "records I've purchased since October 2016 that I feel like droning on about."
With that in mind, I'm going to kick things off with the records that, well, kicked this whole thing off.
Over the past decade or so, I've spent a good deal of time reading and re-reading Google Books' online archive of LIFE Magazine's original run. As someone whose areas of interest are the social fabric and culture — especially of the material variety — of 20th Century America, the publication is an invaluable resource on multiple levels. The weekly schedule and positioning as the nation's foremost family magazine provide a running chronicle of events and aspirations as they unfolded in real-time. The articles, the ads, the editorials, the reviews — the archives are full of interesting leads and countless tangents to get lost within…and, believe me, I have.
I've kept a particular eye out for house ads featuring some of Time-Life's ancillary offerings — expanded versions of material pulled from the periodicals, collated into book (and occasionally record) form, and became an on-approval staple of household, school, and community library shelves. Most are fairly easy to find cheap on the second-hand market, but there was one offering that both intrigued and eluded me for years.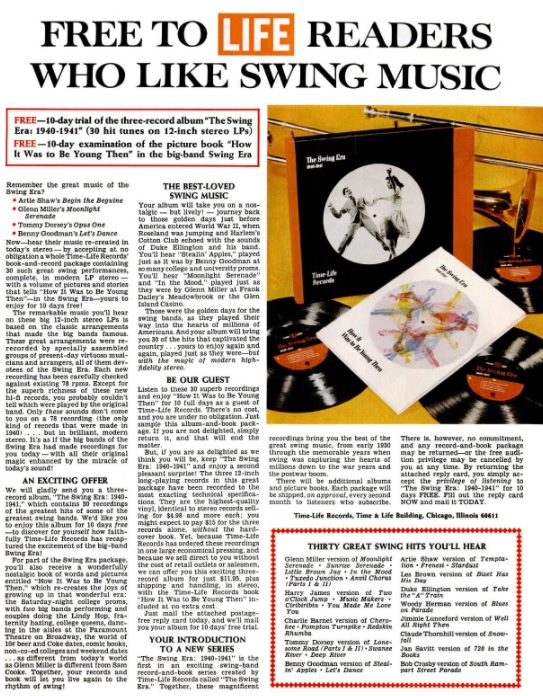 The Swing Era was a series of handsome box sets covering the rise and fall of the Big Band era. Each volume covered a specific era and (somewhat iffy) theme in the form of three LPs and an accompanying hardback tome. They were just the type of omnibus package I love delving into, but the combination of format and release date made acquiring them an expensive hassle for someone who didn't even have a record player. (I did manage to score low quality digital transfers of a few volumes off some enthusiast site, but they were pulled from different editions and were missing such crucial cuts as "In the Mood" or "Sing, Sing, Sing." They did make for a nice custom GTA Online soundtrack, though.)
After years of writing the series off as one of those things to covet from a distance yet never own, Maura came home from an estate sale carrying a near complete set of The Swing Era. She had no idea that I'd been interested in them or despaired of ever finding copies. "They were cheap and I thought they looked cool," she said as I looked over the stack in stunned silence. It was missing the first and final volumes, which was regrettable, but only a fool finds fault with such a fortuitous windfall.
In the absence of a working turntable, the collection ended up occupying a corner of the dining room table for a month before I broke down and bought a low-end Jensen with in-built speakers just to give them a spin.
The compositions included on The Swing Era were (then) modern-day recreations of the tunes based on the arrangements of their signature performers. While it means that you won't hear Gene Krupa pounding the skins in his inimitable fashion, they did tap veteran bandleaders like Glen Gray and Billy May to deliver the high-fidelity goods. Besides, I'm not so much of a purist to sneer at the scope and scale on aural display. The only place it really fall short is on the handful of vocal tracks, where that certain songbird something of old got lost in the mix.
The Swing Era hasn't become an everyday — or even every week — listen for me, but when I do indulge, I indulge hard. I gave the entire set a spin a few months back when Maura was away at a convention for a weekend, and let the hot sounds and smooth numbers wash over me as I went about my appointed rounds. When time doesn't permit a deep dive, I'll content myself with the 1940-41 volume and get the evening started on the most auspicious of notes.
"Tuxedo Junction" has become something of an anthem in our house, but I can't figure out why.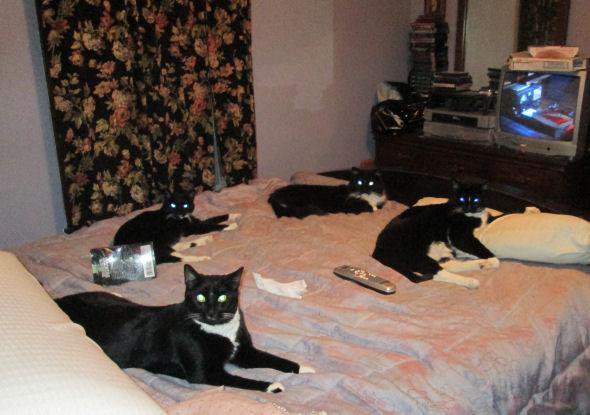 Oh, right.