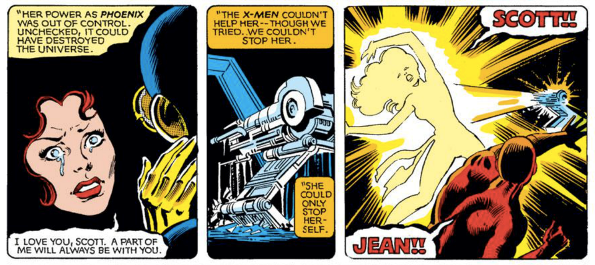 After reading yesterday's piece in The Beat about the changing roles of editors in the comics biz, two things sprang to mind.
One was the intrinsic foolishness of using the Image Comics model of publishing as a yardstick for the industry as a whole. There's no denying that it works and has facilitated the creation of some amazing comics, but the unique circumstances underpinning Image's creation and subsequent evolution make any general comparisons to the wider scene a matter of apples versus oranges.
The other was being reminded about one of the most infamous examples of funnybook editorial interference — the "death" of Phoenix in Uncanny X-Men #137. Chris Claremont's original script had a defeated Jean Grey getting psychically lobotomized by agents of the Shi'ar Empire, with a follow-up arc dealing with her mental regression and the subconscious resurgence of her mutant powers. The planned ending of the issue had already been penciled by John Byrne (and would later show up in the second volume of the X-Men Companion and the Phoenix: The Untold Story one-shot) when someone — the specifics vary based on the memories and grudges of the person telling the the tale — in Marvel's editorial hierarchy decided that it was too lenient a fate for a character who had incinerated several billion sentient creatures on-panel.
The story was re-worked to conclude with Phoenix's suicide-by-plot-device. As janky and awkward as the end results may have been narratively, they resonated deeply with the fan base and helped propel the X-Men into Marvel's top tier franchise.
In terms of long term consequences, the effects of that narrative revision have been blunted by three and a half decades of recursive storytelling in which X-continuity (and Jean Grey's corner of it) has been folded back upon itself innumerable times. Phoenix's death was a big deal at the time, but so were the X-Men in general and time tends to blunt the peaks of individual epic moments.
The original ending probably wouldn't have had the same inspirational impact that the final did on generations of aspiring funnybook creators, but there isn't exactly a shortage of "doom-laden romantic melodrama" permeating the inner lives of geeky-artsy adolescents, either. There are plenty of buses along that route, trust me.
Yet while the impact of Phoenix's death has been rendered inconsequential, I'm glad it happened. Having grown older and more aware of Claremont's peculiar writing tics and thematic obsessions, the world was probably better off without an extended arc where a sexy infantilized Jean was led around like a puppy by a broody-doting Cyclops who was in turn unaware of her subconscious dark side.
Just typing that sentence made me glad I keep a vomit pail next to my desk.