I was never truly a member of the metalhead cult. My flirtation with the handbanging scene was a subcultural transitional between 1960s rock enthusiast and punk rocker. Though it felt a lot longer from my teenage perspective, prosthesis only four months elapsed between the time I asked a coworker at the hospital kitchen to dub me a copy of a Flotsam & Jetsam tape and my purchase of the Repo Man soundtrack.
I still purchased and listened to metal albums after that watershed moment, see but with decreasing frequency. By the time I finished my first semester of college in the autumn of 1990, ed the metal-component of my commuting playlist was down to the mixed bag of the River's Edge soundtrack and Slayer's Reign in Blood. Neither survived the winter intersession break.
As far as moments to be caught up in the metal scene, the tail end of the 1980s was fascinating to bear witness to even as a semi-interested observer. The process of subgenre factionalism and balkanization of opposing scenes had shifted into semantic high gear, where differences in taste could — and usually did — lead to shouting matches. There was little solidary between the warring camps of glam metal gals, guitar virtuoso purists, aggro thrash kids, crossover-diggin' skaterats, and so forth.
"Heavy metal is crap," exclaimed the kid who sat in front of me in my algebra class. When I pointed out the Guns 'n' Roses t-shirt he was wearing, he shot back with "They're not metal. They're hard blues rock." Of such points of order would countless Wikipedia pages later be made. Hell, before I fully alienated my high school best friend by embracing punk, we had multiple fights about the respective musical virtues of White Lion (which he adored) and Anthrax (which I did).
A Grand Unified Theory of Metal Fandom was a chimera at the glam/thrash high water mark of 1988. The notion was even more ludicrous at a time when those scenes had lost ground to birth-pangs of the 1990s alternasplosion, the mainstreaming of Metallica, the arrival of Nine Inch Nails and Ministry's industrial-metal rebirth. Metal survived — just as would it survive its encirclement by the ironic/nostalgic camp crowd — but lost a good deal of ground when the adolescent masses embraced the prevailing trends of grungy-crunchy alt-rock and gangsta rap. (And post-Justice Metallica, which was already showing signs of the trainwreck to come.)
So of course someone in 1991 thought it would be smart business sense to couple a waning trend to extremely precarious speculative bubble…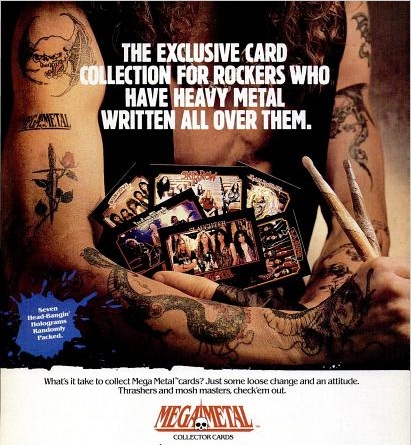 …and thus the Megametal trading card set was born.
Bon Jovi! Skid Row! Slaughter! Judas Priest! L.A. Guns! Iron Maiden! I'm not sure who the intended market for these things was intended to be, but the producers really oversold the "metal" aspect of the project. (My guess it that "who can we afford an image licensing deal with?" was the primary criteria for inclusion.)
A couple of bucks would net you twelve cardboard reproductions of fresh-outta-Hit Parader publicity photos and the chance to nab a SUPER RARE hologram chase card. (Why, yes, the 1990s funnybook industry was heavily influenced by the trading card scene, and not for the better.)
A complete set of the cards can be found on eBay for under a twenty, along with cherry-picked bundles assembled around specific artists for slightly less scratch…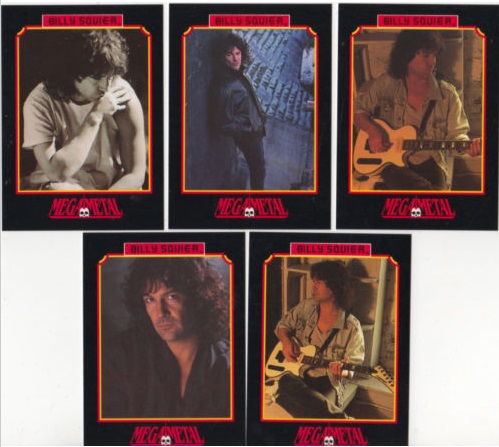 The best $3.25 you'll ever spend.
Related posts: