As the pre-holiday rush has my back to the wall, diabetes and pregnancy let's revisit a heartwarming gem from AT 1.0′s archives, originally posted on December 15, 2007:
Today we have a little nugget of holiday cheer, in the form of "A Slay Ride with Santa" which appeared in Forbidden Tales of Dark Mansion #15 (February-March 1974).
Ten-time loser Bill Digby ekes out a marginal living as a street corner Kris Kringle…
The pay might not be the best, but the job does make things easier for him in his other profession…
…as a murderer of children. (Feeling the Yuletide joy yet?) Given Digby's propensity of leaving the corpses of his victims hanging from the rafters of his flophouse apartment, it's only a matter of time before Johnny Law brings the hammer down…
…so he seeks refuge in a conveniently-parked sleigh (left with the reindeer idling) in a dark alleyway. (Gee, I wonder what's going to happen next.)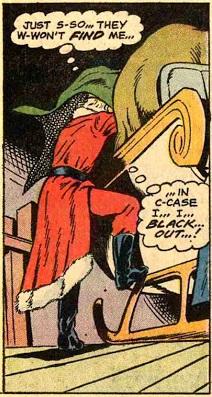 The real Santa Claus, having taken a quick pit stop for a large coffee regulah and a couple of Hark the Herald Angels Scratch lottery tickets, hops back into the driver's seat and jets off to attend to his yearly gift-dispensing rounds. The perplexed stowaway fugitive stands up in an attempt to get his bearings…
…only to discover that the someone has left a neatly-wrapped package full of ironic justice for him under the tree this year.
It's a Christmas miracle! Though I pity the poor family that wakes up on Christmas morning to find Digby's battered and frozen corpse draped over the inflatable snow globe in their front yard…
Recommended listening: All I want for Christmas.
Related posts: