Hey, discount remember when I said I had no interest in creating comics?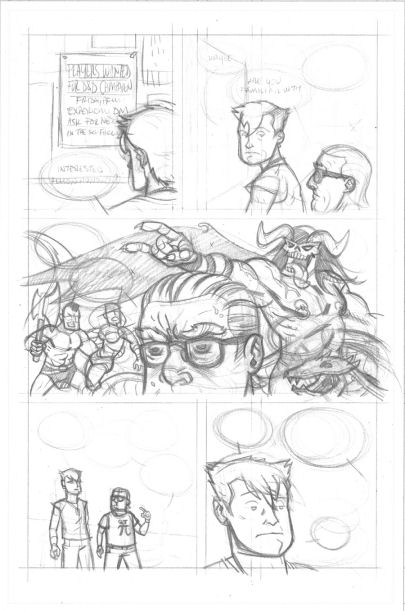 I may have protested a little too much.
The above page is the roughs for the short story — illustrated by the mighty Mathew Digges — I'll be writing for Death Saves, an upcoming anthology about character mortality in tabletop role-playing games, edited by Josh Trujillo. My autobio tale is set during the dark ages of the early 1990s, when I took part in a D&D campaign that…well, you'll just have to wait and see for yourselves.
My contribution almost fell through when the original artist had to drop out, but Matt generously stepped up to the plate. Honestly, I'm still a bit shocked, as I've been a fan of his work (which can be seen in Awesome Hospital, Boo! Halloween Stories, and 2299) for years.
Seriously, the guy is incredibly talented and great to work with.
The Kickstarter for Death Saves launches on January 26th, at which point I will truly start trading on what goodwill I've generated here in exchange for your support. (For real, it's a great thematic idea featuring some great talents, and I'm honored to be part of it.)
Related posts: