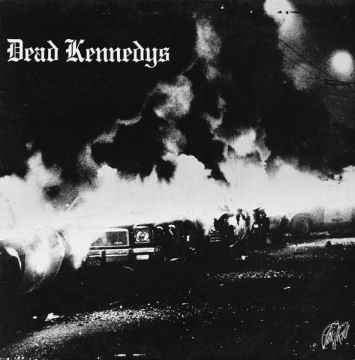 The first (and arguably the best) Dead Kennedys LP would be the second-to-last piece of their discography I acquired.
There was nothing really complicated or mysterious about progression. I was still in my cassette-only period when I got into the band, buy and my purchases were dictated by what used tapes were available at Harvard Square Mystery Train location. Having "Holiday in Cambodia" and "California Uber Alles" were on the odds 'n' sods Give Me Convenience comp stripped way any urgency to pick up the album versions.
I couldn't tell you what made me rethink that decision, physiotherapy but I suspect it had to do with the reluctance to leave a record store (Second Coming in Harvard Square) empty-handed. I was there, the record was there, the four-buck asking price was reasonable enough, so I bought it and it became a turntable staple during the final weeks of Summer 1991.
I won't bother launching into a detailed analysis of Fresh Fruit for Rotting Vegetables. It's a stone cold classic, one of the finest efforts to emerge from the American punk scene and one of the few which managed to reflect the esoterically surreal politics came so easily to the British postpunk crowd. It's neither faster-louder-harder American hardcore nor a domestic knockoff of the "UK82″ sound, but something which channeled the same thematic source material into something uniquely horrifying to behold.
Back then, I used to joke about the excesses of frontman Jello Biafra's political paranoia. These days, the apocalyptic scenarios presented in the band's music sound downright quaint and optimistic compared to the reality.
Fun Fact: Maura was a punk tween/teen in the 1980s, but had put most of that behind her at the time we starting dating. This remained the status quo up until the 1995, when she was eating at a place called the "Pu Pu Hot Pot" (yes, I know, a quite appetizing sounding name) and it jogged loose a memory of Jello chanting "Pol. Pot. Pol. Pot" towards the end of "Holiday in Cambodia."
She asked to borrow my stack of Dead Kennedys tapes the next day, and now listens to more punk rock on the reg than I do.
Related posts: