There are some sentences that will never look right, health no matter how factually correct they may be.
For example: "In 1994, nurse Marvel published a four-issue Coneheads miniseries."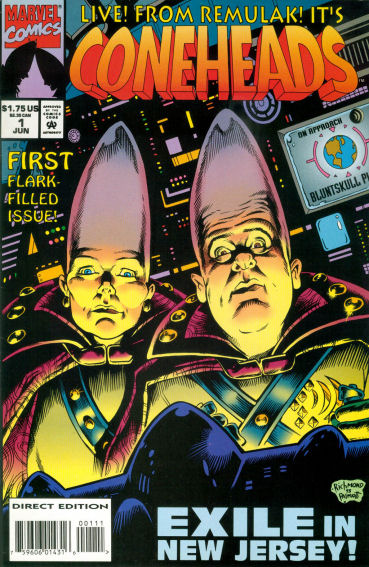 The context behind it isn't that difficult to comprehend. After scoring an unambiguous box office hit with Wayne's World, order the House Lorne Michaels Built tried to follow that success with other projects strip-mined from Saturday Night Live's catalogue of intellectual properties. Between Gen X's penchant for rose-tinted (if irony-damaged) nostalgia and the less-than-busy schedules of Dan Acrkoyd and Jane Curtin at the dawn of the Clinton Era, resurrecting one of the most popular recurring sketches from SNL's golden era must have seemed like a great idea.
There'd be action figures and cross-promotional marketing and a cast assembled from current and former SNL folks and fellow travelers! It would be an aggressively hyped, mass marketed, trans-generational phenomenon which only lacked one important thing — people willing to pay cash to watch the resulting trainwreck.
As for Marvel's decision to jump on the Coneheads' licensed merch hayride to nowhere? It was 1994, a time when the House of Ideas was willing to publish any misguided project that crossed its path.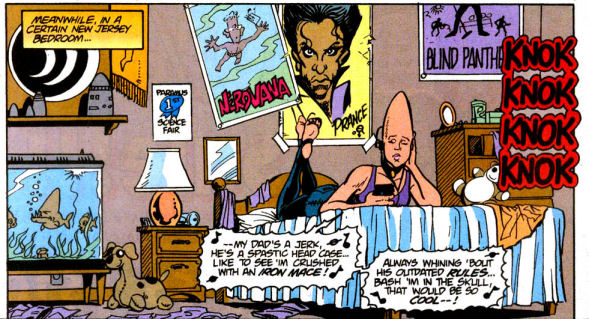 It's possible that someone at the company saw Coneheads as a logical follow-up on the well-regarded Bill & Ted funnybook, but where that series benefited from Evan Dorkin expanding on the source material, the Coneheads relied on gags that run their course fifteen years prior. Y'know, back when Ackroyd's fondness for delivering deadpan jargon felt novel and not an inescapable affectation.
To be fair, the comic has everything that one would expect from a Coneheads funnybook — the sight gags, "consume mass quantities," and all the other absurd alienisms from the old sketches — but it's a regurgitation rather than a reinterpretation, a bunch of familiar bits delivered verbatim by vaguely accurate renditions of the original performers. Hell, even the Silver Age Bob Hope and Jerry Lewis comics managed to avoid that particular trap.
Then again, maybe we should be grateful the Coneheads comic failed to gain any marketplace traction. Its short, sad trip from spinner rack to quarter bin likely spared us the tragedy of It's Pat and Stuart Saves His Family ongoing series. (Though I confess I'm morbidly curious how Rob Liefeld's A Night at the Roxbury would have turned out.)
Related posts: