This week's installment is both out-of-sequence and features an LP technically part of my collection. It was purchased in the summer of 1990 by my little brother during the same trip which yielded this essential classic.
The record is Steve Martin's Comedy Is Not Pretty…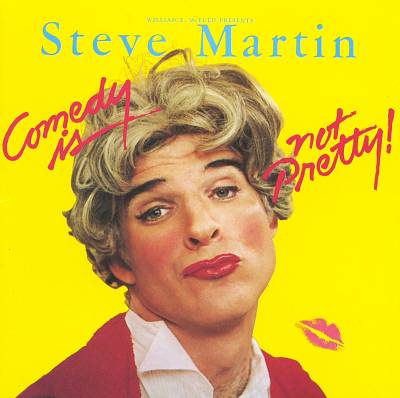 …released in 1979.
My brother was hepped to the comedian's stand-up routines by upperclassmen in his high school's AV club (i.e. "a bunch of slackers who tooled around with minimal supervision in the editing room") and decided to spring for the sole Steve Martin offering in Mystery Train's comedy bin.
Though the specifics might vary on a case to case basis, I'm pretty certain my brother wasn't unique in that. It's difficult to underestimate and fully articulate the influence Martin's zany absurdist routines had upon countless dorky Gen X-ers with comedic pretensions.
It probably helped that his material was more goofy than blue, which made him accessible to pre-teen audiences whose parents' would have barred anything by guys like Pryor or Carlin from crossing the threshold of their suburban ranch homes. And unlike Newhart or Cosby, whose LPs could be found next to Mitch Miller's by the family stereo, Martin's oddness felt new.
So it's no surprise that so much of the absurdist comedy shit that broke big in my early adulthood — Kids in the Hall, King Missile, anti-folk — bore some trace of DNA from Steve Martin's stand-up days.
Hell, the double whammy of Martin's The Jerk and Zucker-Abrahams-Zucker's Airplane, dropping right at the moment when most kids at least knew someone with either cable or a VCR, was a cultural moment on par with the Sex Pistols playing at Manchester's Free Trade Hall.
Even though Comedy Is Not Pretty pales in comparison to Martin's previous pair of LPs — mainly because he was busy working on the screenplay for The Jerk and running up against diminishing returns with his signature material — my brother and I gave it plenty of spins before letting it migrate to the bottom of our shared album stack.
Our loss of interest didn't reflect on the material, but rather on the nature of comedy albums themselves. A good song can sustain an infinite number of plays. A good monologue can only sustain a dozen or so before one's brain commits every line, inflection, and pause to memory. Once you can cite it verbatim, the actual recording becomes redundant for all but the most dedicated enthusiasts.
And then you go back and revisit it twenty years later and realize that a lot of motherfuckers (myself included) owe a massive debt that can never be repaid.
Related posts: