A new wave of cinematic horror is on the shag-carpeted horizon, and the letters page of The Witching Hour #54 (April 1975) is there to provide all the pertinent details: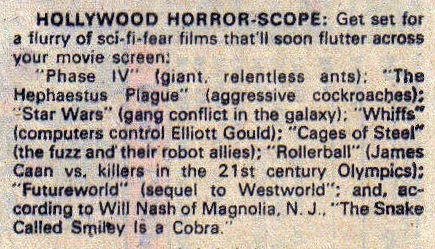 That's quite the fascinating snapshot into the realm of genre flicks prior to the 1977 paradigm shift, even if some the writer's descriptions for the films missed the mark. Whiffs was a forgotten Ted Post black comedy about military test subjects applying their knowledge to bank heists, which places it outside of the "sci-fi fear" rubric. "Gang Conflict in the Galaxy" is fucking golden, though, and will get a lot of mileage out of me in the run up to December.
As far as I can tell, Cages of Steel never made it to the screen (under that title, at least). Phase IV has picked up wider recognition in recent years, thanks to Saul Bass's involvement and a trippy soundtrack — two things the The Hephaestus Plague (more commonly known as Bug) lacked on its short road into the late night UHF memory hole. Rollerball survived a dismal 2002 remake to become a essential artifact of 1970s retro-futurism, and Westworld/Futureworld is currently getting dusted off for a consent decree-driven HBO series.
Of course we all know which of the films cited in the blurb went on to be a culturally defining phenomenon. It only seems like yesterday that I was sitting in the back of my dad's Thunderbird and marveling over the opening crawl of The Snake Called Smiley Is a Cobra, and the begging my parents to take me to the sequels — The Pit Viper Bites Back and Return of the Javan Spitting Cobra. It seemed as if every kid in my elementary school had a set of Smiley action figures and trading cards. While the franchise may have stumbled a bit with the prequels' disappointing focus on herpetological politics and terrible dialogue — "Hiss me, Anaconda, like you did at the Reptile Zoo" — I have high hopes that the Disney produced The Boa A'Snakens will help it shed that bad rep.
Recommended listening: Pitch Black – Deconstructive Criticism (from This Is Horrorpunk, 2004)
Audio clip: Adobe Flash Player (version 9 or above) is required to play this audio clip. Download the latest version here. You also need to have JavaScript enabled in your browser.
We dissect to murder.
Related posts: