For today's entry, I'm going to grapple with something utterly terrifying to me. Yep, that's right — the gut-eating nightmare known as self-promotion.
A while back I mentioned having a handful of modest funnybook projects in the pipeline, and now one of those is currently available for pre-order!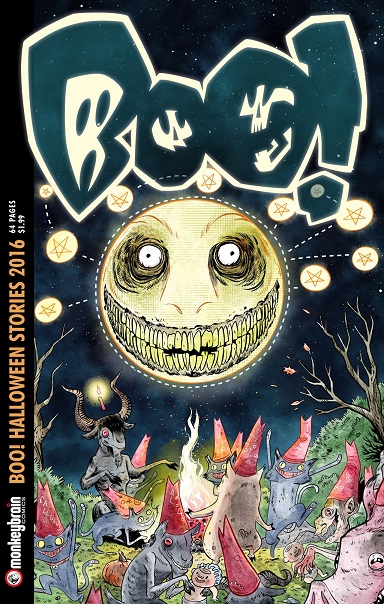 Boo! Halloween Stories 2016 will be getting a digital release on October 26, and it features a four-page phantasmic tale by yours truly.
The story — inspired by my beloved Queen on the Animals — was beautifully illustrated by Daniel Butler and exquisitely lettered by Josh Krach, two very talented fellows I'm honored to call pals.
This is actually a pretty big deal for me. I had pitched another story for an earlier installment of Boo a couple years ago, but it wasn't that great and then life blindsided me with a totaled car and a miscarriage in space of a few short months. It was a pretty rotten time, yet it helped put a lot things into proper perspective. In terms of comics work, that meant pursuing projects only when I felt like I had something to say instead of forcing a fit because everyone else seemed to be doing it.
I'm genuinely proud of this story and the efforts of my collaborators put into bringing it to funnybook life. It's not terribly long or particularly earth-shaking, but it's a story I felt strong enough to share. Seeing it alongside so many other great tales by amazing creators is simultaneously humbling and uplifting, like I cleared some final hurdle on the path back from those dark days.
That's all on my side of the divide, regardless of whether you enjoy it or not…though I hope you do.
Finally, a big thanks to Calamity Jon Morris for giving me this opportunity, despite my surly and petulant demeanor.
Recommended listening: Party Day – Grace (from Glasshouse, 1985)
Audio clip: Adobe Flash Player (version 9 or above) is required to play this audio clip. Download the latest version here. You also need to have JavaScript enabled in your browser.
This selection will make a lot more sense after you read the story, even though its title was inspired by a Throwing Muses song.
Related posts: