My next K-Tel acquisition followed right on the heels of Chart Action '83, as it is inextricably linked with that seminal compilation in the twisted corridors of childhood memory.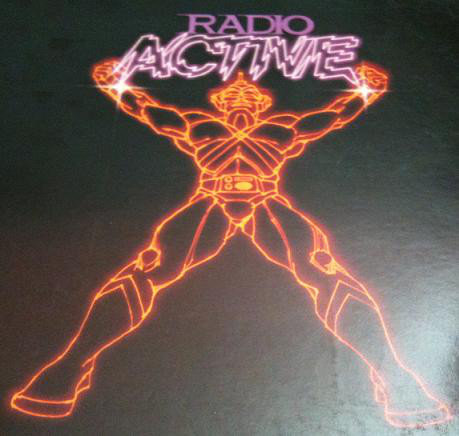 I wrote about Radio Active not too long ago, with a focus on how a specific half-forgotten track on the comp managed to blindside me with a heavy dose of long-buried existential dread. This time around I'd like to take a look at the album as whole, as both an artifact of a specific moment in history and my own embryonic relationship with pop music.
Radio Active — along with Chart Action '83 — was one of the two K-Tel 8-tracks my parents bought to get some use out of the deck installed in the family Cordoba. The reasons why they picked these two albums in particular have been lost to time. Up until that time, my parents had been strictly soft rock and singer-songwriter people. Neil Diamond, Steve Forbert, James Taylor, Judy Collins, and the Little River Band were all in heavy rotation in our cramped little apartment through the dawn of the Reagan Era.
If I had to hazard a guess about the origins of this shift in listening habits, I'd lay even money on two significant events which took place shortly before it happened. My father's youngest sister — who was only five years older than I was — moved in with us and brought a younger and hipper musical sensibility to our home. Not long afterward, my mom took an assembly line job at a stereo manufacturing plant to help make ends meet, which brought her hyper-impressionable self into contact with a bunch of twenty-something musician and audiophile co-workers.
Whatever the case may have been, Radio Active was a near-permanent fixture in the dashboard of the family's richly upholstered ride for the better part of a year, racking up a dozen plays for every one thrown Chart Action's way. As the earlier of the two comps (covering the tail end of '81 and early '82), its selection of hot hits covered the murky, furtive moment when my relationship to pop music was transitioning between "overheard from older listeners" and "actively sought out on my own terms."
From the perspective of oh-so-jaded middle age, the notion of a huge gulf in self-realization between ages the ten and eleven seems a bit comical and absurd. Kids don't have the luxury of such a long view, however, and operate in a temporal realm where six months can feel like a lifetime.
Or, in the my case during the span between 1981 and 1984, multiple lifetimes.
Here's Radio Active's track listing:
A1 The Police – Every Little Thing She Does Is Magic
A2 The Moody Blues – The Voice
A3 REO Speedwagon – Take It On The Run
A4 Pat Benatar – Promises In The Dark
A5 The Who – You Better You Bet
A6 Rick Springfield – I've Done Everything For You
A7 Daryl Hall & John Oates – Private Eyes
B1 Commodores – Lady (You Bring Me Up)
B2 Carl Carlton - She's A Bad Mama Jama (She's Built, She's Stacked)
B3 Rick James – Super Freak
B4 Genesis – No Reply At All
B5 Devo - Working In The Coal Mine
B6 Go-Go's – Our Lips Are Sealed
B7 Blondie – Rapture
It's a scattershot mix of genres and artists pulled from all over the pop spectrum in the odd transitional period between the death of disco and MTV's impact becoming fully apparent. Bubblegum, soft rock, AOR, new wave, and post-disco funk and soul jams contending for chart placement as the music industry flailed about looking for the next big hegemonic scene.
To a younger set of eyes and ears, it seems haphazard as hell. If you lived through the era, it makes perfect sense — the ambient pop soundtrack that wove its way through the recessionary and apocalyptic hours before supply-side morning returned to America. That historical context — filtered through the eyes of and internalized by an anxious ten year old — has imbued the music with haunting overtones, with even the chirpiest tracks evoking ghostly whispers at the edge of my subconscious.
The experience is an aggregate one. Taken individually, my only reaction to "Private Eyes" or "No Reply at All" is to say "not this crap again" and flip to another station. As part of Radio Active's overall playlist, they become integral chapters in an claustrophobic tale of childhood terrors giving way to uncertainties of early adolescence.
It's a spooky and uncomfortable experience, yet fascinating to revisit — like running my tongue over a missing tooth or rubbing my index finger over an ancient scar. There's an elusive tangibility to the mystery and hazy memories, rooted as they are in childhood's larger than life and a dozen times more terrifying conception of events, which isn't present Chart Action '83 or other artifacts outside that temporal frame of reference.
Of all the K-Tel compilations I've purchased, Radio Active is the one I keep returning to.
"Why the fuck are you listening to Genesis?" Maura asks.
If I had an answer, I would need to.
Related posts: