It's time for another dive into the howling vortex of the 1983 pop charts, as chronicled by K-Tel's midlist compilation albums. In this case, the insanity is not merely implied…
…it's directly stated in the title.
Honestly, the whole Dancing Madness angle doesn't make a lot of sense to me. It's the type of title reserved for the thematic offerings K-Tel scraped together from various sources, not a general omnibus of recent Hot 100 tracks. Most of the tracks on Dancing Madness are indeed danceable, but that's pretty common for pop songs. It certainly doesn't rise to a level suggesting the abandonment of rational thought.
Perhaps it was backfilled justification for blowing a bunch of money on the skanking wireframe robot animation. If so, I approve wholeheartedly.
Here's the track list, which utterly reeks of strawberry Tangy Taffy, Luv's Baby Soft, and the pungent PVC reek of a freshly opened action figure.
A1 The Kinks – Come Dancing
A2 The Human League – (Keep Feeling) Fascination
A3 Naked Eyes – Always Something There To Remind Me
A4 Sparks And Jane Wiedlin – Cool Places
A5 OXO – Whirly Girl
A6 Musical Youth – Pass The Dutchie
B1 Eddy Grant – Electric Avenue
B2 Culture Club - Time (Clock Of Heart)
B3 A Flock Of Seagulls – Wishing (If I Had A Photograph Of You)
B4 The Hollies – Stop In The Name Of Love
B5 Mtume – Juicy Fruit
B6 Jeffrey Osborne – Don't You Get So Mad
If you're a fan of parentheses in song titles, this is compilation for you.
It's an exceptionally strong line-up of selections, and arguably even more representative of my rose-tinted recollections of that year than Chart Action 83's tracklist.
The Kinks' "Come Dancing" was the biggest draw (and most likely inspiration for the comp's title) and the most recursive bit of retro ever pressed to vinyl. It's a British Invasion act from the 1960s performing a new wave inflected slice of 1980s power pop about nostalgia for 1940s British dance halls. Maura's mom, an Irish immigrant who was fifty when the song was released, adored it. A couple of weeks after I bought Dancing Madness, Maura managed to score the 12″ single release of the track at an estate sale.
Joining The Kinks in the cross-decade chart appeal stakes were the Hollies, with an overproduced and underwhelming version of "Stop in the Name of Love." It's an interesting side note, but eclipsed by the apocalyptic funk-reggae of Eddie Grant's "Electric Avenue" and Naked Eyes' synthesized do-over of Bachrach's "Always Something There To Remind Me." Both are capable of opening a quantum tunnel straight to a moment in my life where I crushed heavily on Wolfsbane from the New Mutants and swiped quarters off my old man's nightstand to play Mr. Do at the arcade at the Wilmington train station.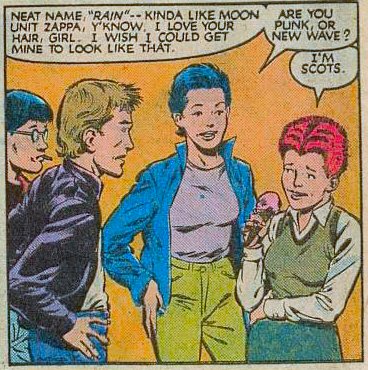 Below that flashback-inducing tier are a cluster of auditory nostalgia markers, significant but not necessarily singular. The Human League's "Fascination" is most notable of the bunch, for somewhat mixed reasons. The song itself is perfectly enjoyable, but it was also an early warning sign of the new wave's self-erasure. Synthesized horns and pseudo-Motown affectations replaced chilly futurism in the drift towards the pastel plastic pandering of "Big Pop." The World That's Coming was in the the process of becoming a past-tense proposition. While my terrified tweener self should've been relieved about the dialing back of existential dread, its successor trend was even more nauseating to contemplate.
I should also throw in a few words about Mtume's "Juicy Fruit," which almost caused a spit take the moment I realized it wasn't a (possibly imagined) commercial jingle lodged in the remote recesses of my memory.
On content alone, Dancing Madness should be one of my favorite K-Tel offerings. And it is….in theory. In practice, it tends to get passed over in favor of other compilations where the high points are a wee bit higher and the low points are slathered in glorious cheese. "Consistently solid" isn't a bad place to bee, but it lacks the delicious drama evoked by wild swings in quality.
Related posts: