(from the 11/12/1977 issue of Billboard)
While the glitterati cavorted in a costumed coke-haze and New York's finest tried to prevent a real-life disco inferno, an equally absurd scene was going down in the suburbs northwest of Boston.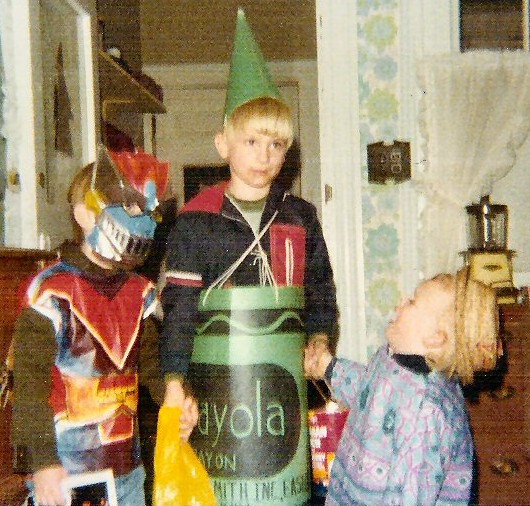 A downside of having an artist for parent is that you tend to find yourself serving as a canvas for their ideas. That's how — in midst of golden age of Star Wars and Superman and Shogun Warriors — I had to face a cruel chorus of my peers dressed a Green Crayola Crayon. There was no opting out of these projects, and I spent multiple trick or treating sessions with my face still smarting from a swift backhanded response to my "aw, do I have to, Ma?"
Even Lil Bro, who was too young to tell the difference between lead paint chips and candy, knew the score and hopped on the humiliation train.
My peers dreaded the day when they'd be too old to dress up and beg for treats. I couldn't wait for that moment to arrive.
Recommended listening: Forbidden Fruits – Disco Halloween (from a 1986 12″ single)
While Panic! at the Disco's "This Is Halloween" would have been a more fitting selection, I have standards which must be upheld.
Related posts: