As mentioned yesterday, Maura is a fan of all things spooky — which probably has something to do with her birthday falling three days before Halloween.
For this year's grab bag of gifts, I gave her a Petco gift card to buy some fluorescent tropical fish to restock her aquarium, a copy of Lol Tolhurst's autobiography, a "Spooky Girl" pin (which she adored) from pal Ken's online store, and a framed print of her favorite panel from the story (inspired by her) Daniel Butler and I did for last year's Boo! Halloween Stories anthology.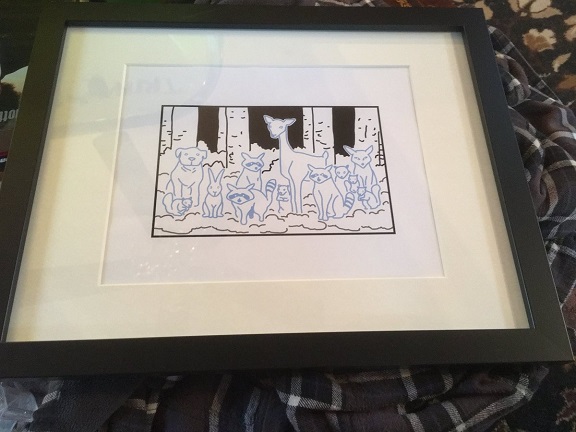 She wants to hang it over the cabinet where we keep mementos of our departed critters.
For tonight's festivities, we plan on ordering takeout from one our favorite restaurants and watching one of Maura's favorite horror flicks. As one does when one is the spouse of a person whose name literally translates to "the Dark One favored by the Raven Clan."
Recommended listening: The Damned – Shadow of Love (from Phantasmagoria, 1985)
There are folks who will tell you Phantasmagoria is a lesser effort by The Damned. They should be ignored.
Related posts: