Six weeks have passed since the previous installment of this feature, which was more than enough time to freshen up my pool of midlist compilations released by the Winnipeg Wonder.
Having exhausted the vein of direct nostalgic recollection, I've begun casting my net a little further from familiar shores. It hasn't been an easy or intuitive task. The sheer volume of K-Tel releases makes navigating their back catalog a confusing chore, and that's before taking into to account international product with altered content and recycled titles. It had led to situations where I've stumbled across something amazing — like a late Seventies collection of space disco jams — only to discover its either impossible to score a copy or is being hawked by a shady Discogs seller in Europe's back forty where shipping costs end up costing ten times more than the record itself.
The easiest method I've hit upon for finding new-to-me material is to pick the a favored (or period significant) artist, add "K-Tel" to the search string, and let Google work its imperfect magic. That's how I came across 1979′s Hi-Energy, with Lene Lovich being the key variable in question.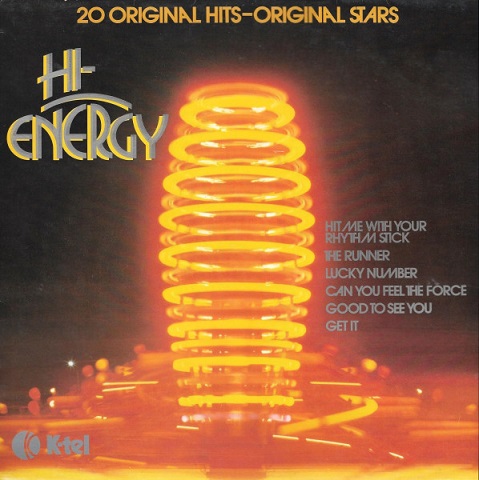 Not to be confused with the domestically released (and wildly uneven) High Energy from the same year, this is a UK market jobber pulled from that nation's pop charts. While the transition period I've dubbed "the Cusp" transcended geographic boundaries, the compilation's track list shows that its specific manifestations still adhered to local conditions.
A1 Ian Dury & The Blockheads – Hit Me With Your Rhythm Stick
A2 Real Thing – Can You Feel The Force
A3 Edwin Starr – Contact
A4 Liquid Gold – Mr. Groovy (It Feels So Fine)
A5 Sarah Brightman And The Starship Troopers – The Adventures Of A Love Crusader
A6 Dennis Brown - Money In My Pocket
A7 Barry White – Just The Way You Are
A8 Frankie Miller – Good To See You
A9 Rachel Sweet - B-A-B-Y
A10 The Three Degrees – The Runner
B1 The Darts – Get It
B2 Violinski – Clog Dance
B3 Driver 67 – Car 67
B4 The Pretenders – Stop Your Sobbing
B5 U.F.O. – Doctor, Doctor
B6 The Skids – Into The Valley
B7 Leyton Buzzard – Saturday Night (Beneath The Plastic Palm Trees)
B8 The Members – Sound Of The Suburbs
B9 Generation X – King Rocker
B10 Lene Lovich - Lucky Number
Stiff pop and Virgin punk, leavened with a tasty sampling of disco and soul cuts, late cycle pub rock, a dash of rockabilly revival, and whatever the hell Violinski was supposed to be…
(You don't have to tell me. I know it was an ELO alumni side project featuring the soon-to-be cut loose Mik Kaminski and the previously departed Mike de Albuquerque. That doesn't make it any more explicable.)
The big draws on this one were "Lucky Number" (obviously, considering it's what drew the record to my attention to begin with), "Into the Valley," and "King Rocker."
The rest of it is….quite fine, actually. It's a very listenable, if oddly curated, window into an alternate world which ran parallel to the 1979 I hazily remembered. I've given it a couple spins over the past few weeks, but still haven't found the right niche for it in my listening schedule where weekday evenings are given over Maura-acceptable selections and the weekends a time to indulge in more direct forms of musical nostalgia. Hi-Energy doesn't really fit in either category, and thus gets passed over in favor of the Stand By Me soundtrack or Radio Active.
Or I've hit a point where I have too many records to give them all their just due –nNot that I've ever let that stop me before.
Related posts: