My quest to bring my record collection into alignment with my current listening habits brought me to eBay, where I browsed listing after listing in search of the right combination of physical condition and asking price. Eventually I stuck gold in the form of a bulk lot jobber offering a choice of five albums from a massive list of Seventies and Eighties rock LPs for a flat twenty bucks.
The collection was evenly mixed between classic rock and radio-friendly new wave. It was exactly the type of stuff I was searching for, and so I dropped the dough on a quintet of gems including The English Beat's What Is Beat, Rant n' Rave with the Stray Cats, The Cars' Shake It Up, K-Tel's The Rock Album…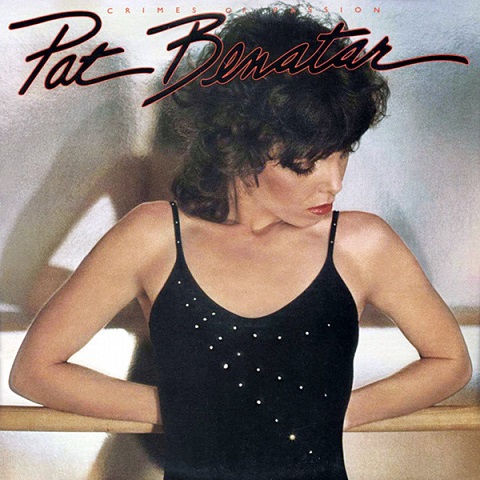 …and Pat Benatar's Crimes of Passion.
My appreciation of Pat Benatar's music is a perfect example of the shift in musical taste that took place once I let go of any pretense of puritanical. punk rockerhood. Her songs (and looks) loomed large in my early adolescence, despite the shade cast her way from the macho rockist types in my social circles. She also got a lot of flak — then and in the irony-damaged Gen X era — for leaning into the whole concept video gimmick, despite the fact most of it was label-driven and she was hardly unique when it came to that silliness.
At some point around the mid-Nineties, I heard "Heartbreaker" on some classic rock station (or maybe a VH-1 retrospective thingee), and thought to myself "wow, this track really rocks." Maura, a huge fan of The Legend of Billie Jean, encouraged my rekindled interest with a birthday gift of a Pat Benatar's Greatest Hits CD and my devotion has not wavered since.
Both "Heartbreaker" and "We Live for Love" were included on the Rock 80 comp which got frequent spins on my turntable in the autumn of 2016. (In fact, she made numerous appearances on K-Tel collections from that era, right up there with Rick Springfield and The Police but slightly behind Hall and Oates.) So when I saw a copy of her 1980 sophomore release on the seller's list of offerings, it was an easy selection to make.
While Ms. Benatar does get props from right-minded folks these days, I'm still shocked she doesn't get more acclaim in rockist circles. In terms of range and power, she outdid nearly all of her peers and her shift into Big Pop excess was less egregious than what more "serious" rock acts indulged in during the mid-Eighties. Foreigner's "I Want to Know What Love Is" is a prom-ready embarrassment, while Benatar's "Invincible" was — and still is — a fist-pumping masterpiece.
(By the same token, Neil Giraldo deserves to be hailed as the true guitar god of the early Eighties. Not only for his work with Benatar's band but also for recording one of the most recognizable hooks in power-pop history.)
For all the hard-hitting anthemic jams on Crimes of Passion — "Treat Me Right," "Hit Me with Your Best Shot," "Hell Is for Children" — the biggest draw for me was Benatar's cover of "Wuthering Heights." Look, I'm not going to make a case for it vis-a-vis the Kate Bush original, but it still takes my breath away.
Related posts: