This week's featured record buy should come as no surprise to anyone who has been following this site for a while.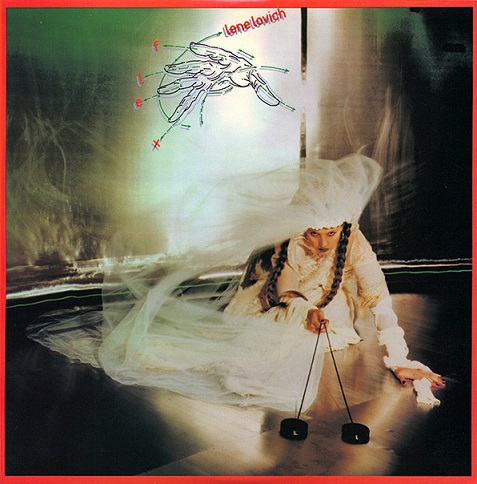 I first got into Lene Lovich through Rhino's Just Can't Enough series of new wave compilations, which provided a handy backwards-gazing refuge during the commercial peak of the Nineties alterna-splosion. "New Toy" (written for Lovich by synth-maestro Thomas Dolby) appeared on Volume 3, which I bought as a secondhand afterthought at Disc Diggers during the autumn of 1994.
Maura was the one who pointed the song out to me, saying something like "oh, yeah, she was pretty great." It was enough to get me to buy the comp, and a single play confirmed her endorsement.
It was enticing enough to seek out Rhino's reissue of Lovich's first album, which was fine but didn't live up to the expectations set by "New Toy." It wasn't until I picked up a copy of her 1979 follow-up, Flex, to round out a "three CDs for twenty bucks" sale a few months later that my love affair with Lovich's music truly began. (The other two CDs I purchased that day were Modern English's After The Snow and The Monkees' Head, in case you were wondering.)
Flex is an apex product of the "The Cusp," that weird and wonderful transition zone between popular conceptions of the "Seventies" and "Eighties." Like other transition zones, it was a freewheeling moment when all manner of niche cultural ecologies could find ephemeral purchase and occasionally rise to prominence. That was especially true in the music realm, where punk's emergence and disco's decline opened things up for the emergence of all manner of leftfield contenders for Next Big Thing mantle.
Thus it was that a dramatically garbed singer-songwriter who sounded like a sci-fi Marlene Dietrich and performed bouncy yet haunting pop songs about Planet of the Apes, ESP, and space travel could have a pretty decent run (in the UK charts, at least). While her music may have escaped my notice at the time, it perfectly slotted into my lingering impressions of that era.
This after the fact appreciation of Flex got a further boost from Maura, who embraced it wholeheartedly and turned it into the default soundtrack for a good stretch of our middle and late Nineties experience. Lovich's "It's You, Only You (Mein Schmerz)" (an EP track which — like "New Toy" — appeared on the Flex reissue CD but not the original album) became one of "our" songs and was featured on our wedding reception playlist. Before circumstances took the matter out of our hands, our plan was to name our first girl-child "Nina Marlene" in honor of both Lovich and her fellow eccentric musician Nina Hagen.
So, yeah, obtaining a vinyl copy of Flex was a given.
Related posts: