From the summer of 1990 through the spring of 1991, I regularly listened to WMBR. The scrappy little underdog of Boston's alt-and-college radio was broadcast out of MIT, nestled at the bottom of the FM band and sporting a signal that managed to reach the wooly wilds of Woburn with little static or distortion. I'm not quite sure how I discovered the station, but it hooked me the moment it spun "Oh Bondage Up Yours" by X-Ray Spex during one of its evening programming blocks.
WMBR's Breakfast of Champions and Late Risers' Club became a staple of my indigent punk rock mornings, music to dawdle in bed to before getting up of a strenuous day of playing Phantasy Star II in my underpants in front of an oscillating fan. Most of the music wasn't really to my tastes, but the chance of hearing some punk obscurity kept me listening through the long stretches of standard template indie rock. I did discover a few new favorites — such as King Missile and Shonen Knife — through the station, as well as a wider perspective of the local club scene by way of a litany of familiar and since forgotten venues.
There was one specific and heavily played track whose title and general idea stuck with me long after any memory of the melody had evaporated from my skull. The ditty was titled "The Possession of Dr. Zachary Smith," a tongue-in-cheek popcult rave up (when such things were still novelty rather than requisite) about the titular gadabout from Lost in Space. The performers even threw some voice samples from the show into the mix to demonstrate their commitment to the concept.
I'd occasionally think of the song every so often in the years and decades that followed, usually after hearing the earlier and similarly themed "Where's Captain Kirk" by Spizzenergi.
Any attempts to recall anything other than the title and use of voice samples were in vain, and over time the sound of the Spizz single blended together with what little I could remember.
Finally, about five years ago, I caught a lucky(ish) break when a Google search came back with an archived Breakfast of Champions playlist from late 1990. "Lucky(ish)," because while it provided a band name to place with the song — The Hellcats from Outer Space — there was little else to follow up with. Neither peer-to-peer networks nor any of the major streaming services had it available to listen to, and eBay searches for the single turned up nothing.
It wasn't until I started messing around on Discogs a couple of months ago that it occured to me to check and see if it was available on site's marketplace. To my delight and surprise, there were no fewer than a dozen copies being offered for sale. A buck-fifty plus shipping and seven days later, and I had the single in my grubby mitts at long last.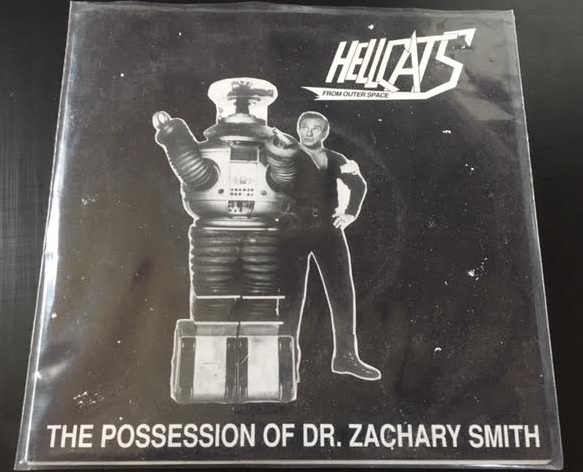 There was a twinge of trepidation as I slapped it on the turntable. These extended chases tend to involve a good deal of disappointment, as the object in question rarely lives up to expectations inflated by covetousness, nostalgia, or a combination of both. Twenty seven years is a long time, especially when the last time I listened to the "The Possession of Dr. Zachary Smith" it was with an eighteen-year old tryhard geek-punk's ears.
Still, closure is closure. I lowered the stylus onto the disc and….it was okay, I guess.
The song was a lot more metallic than I'd remembered it being, chock-a-block with the thrash metal riffs that feel oh so familiar and more than a little generic to my middle-aged ears. Everything rests on the tracks retro-schlock concept, rendering the music into little more than an afterthought. I can see why I caught my notice at the time — crunchy guitars and novel subject matter — but it feels like a anachronistic entry in the late Seventies "schock punk" scene. You know the drill — a bunch of Kiss-loving wannabe musicians read some article about the Sex Pistols in their suburban newspaper and decide to jump trains by marrying a bog-standard hard rock sound to a third-hand impression of what punk lyrics were, resulting in a tune perfectly suited for some network sitcom or afterschool special about the scene. Early American punk is lousy with such acts, with an emphasis on "lousy."
By that standard, "The Possession of Dr. Zachary Smith" is more than adequate at what it does (which at this stage of my life means "inducing regret and eyerolling in bulk"). I don't regret picking up a copy, if only as a nostalgic artifact of a bygone era.
Related posts: