Fiend Folio was one of the first Dungeons & Dragons hardcovers I owned, purchased on clearance from Kay-Bee Toys for the whopping sum of three dollars and ninety-five cents. I spent hours upon hours flipping through its gallery of fan-created creatures, sketching my own interpretations, and dropping them into my graph paper dungeons without any sense of logic.
I was especially fascinated by the undead monsters. My embrace of D&D took place around the same time as my family's purchase of a VCR and a flood of cheap horror flick rentals at the Video Station in Woburn Square. I'd started reading Stephen King and buying the tabloid-sized EC horror comics reprints from my local direct market shop. My nuclear war anxieties were at their peak, as were my feeling of middle school era alienation.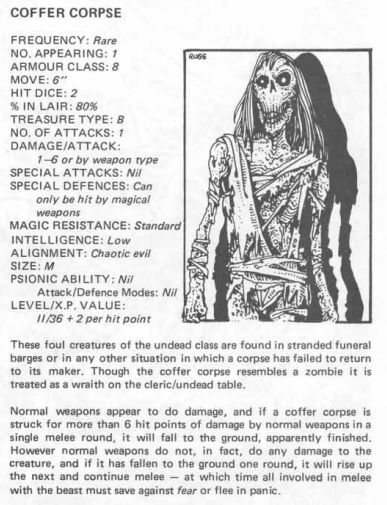 Shambling corpses and unquiet spirits and red-eyed bloodsuckers dovetailed perfectly with that atmosphere of adolescent dread.
I've come a long way since those days. my love of D&D was replaced by an interested in more sophisticated role-playing games with terrors that better reflected my current anxieties — like this lovely little beast from Warhammer FRP's Tome of Corruption…
Though, to be honest, they probably wouldn't survive more than thirty seconds in my plague pit of a pie-hole.
Recommended listening:
Related posts: