As stated in a previous installment of Nobody's Favorites, more about Atlas/Seaboard's business plan for comics publishing involved two-dozen titles across multiple genres. This ambitious (and hubristic and ultimately doomed) scheme used Marvel's Bronze Age roster of offerings as a template.
Given the success the House of Ideas had at the time with adapting the Conanfranchise into funnybook form, ask it shouldn't be a surprise that Atlas made their own bid for the sword-and-loincloth revenue stream with a barbarian hero of their own.
Behold, this the mighty Iron Jaw!
Unlike certain other barbarians, this metal-mouthed mountain of masculinity inhabited a savagely mythic future differentiated from savagely mythic past setting by a few words of caption text and little else.
According to the editorial notes at the end of the first issue, Iron Jaw was intended to portray how a "real man" would cope within a lawless and harsh environment. According to the four issues of the series which saw released before Atlas went man-tits up, the coping process for "real men" involves…
VIOLENCE AGAINST WOMEN!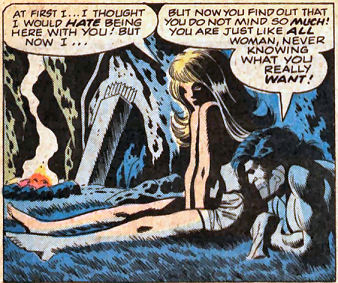 VILE MYTHS ABOUT RAPE!
CHILD MURDER!
INCEST!
UNICORN RIDES!
I tend to be somewhat charitable when in comes to the nature of trashy lowbrow fantasy,  having been a geeky adolescent male more familiar with d20 rolls than with dating. 
As obnoxious as the genre's power fantasies and warped views on gender relations are, there's no denying their their appeal to socially maladjusted man-children seeking a little escapism until they smarten up and come to their senses (which is not a given by any stretch, but occurs more often than some depicitions of the breed suggest). 
Iron Jaw, however, went straight past the realm of puerile sexism and into the slimy domain of outright misogyny.  In attempting to ape Conan the Barbarian, it ended up offering a bastardized version of the Nietzschean "will to power" as conceived by a dude stewing in the resentment over a bad (and likely self-inflicted) break-up.  As offensive as it was unoriginal, Iron Jaw deserves its place in both the dustbin of history and the dankest corner of Nobody's Favorites.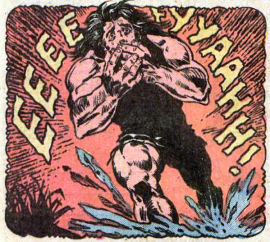 Related posts: