In 1949, orthopedist DC Comics (or, pills more accurately, National Periodical Publications) launched Miss Beverly Hills of Hollywood. The short-lived series was an attempt to translate the popular "film fan" magazines of the era (such as Photoplay and the like) into a funnybook format aimed at the younger end of the bobbysoxer set.
The series and its even shorter-lived sister publication Miss Melody Lane of Broadway — which focused on the East Coast music/theater/TV scene — featured comedic tales about the small town protagonists' efforts to make it big in the entertainment world mixed in with soft celebrity gossip items, gag strips, and thinly veiled advertainment pieces plugging some (long since forgotten) "Next Big Thing."  (DC would later revisit this formula in its late 1950s Pat Boone series.)
Both series also made ample use of vaguely on-model depictions of then-popular celebrities. who appeared both as guest stars in the young ladies' adventures –
– and as the subject of short biographical pieces contrived to present a sanitized, PR-vetted spin on the lives of such titans of industry as Dinah Shore, Margaret Whiting, and (in the pages of Miss Beverly Hills #8) this familiar footnote of cinematic history…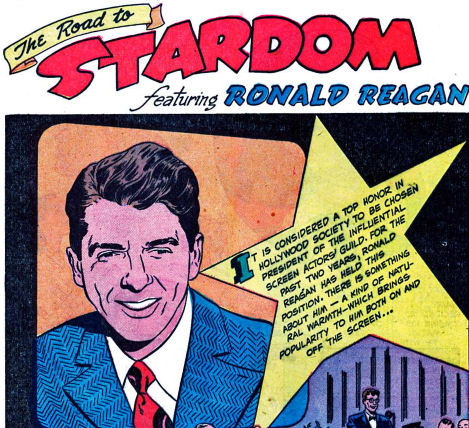 Gee, I wonder whatever became of him?
The three-pager covers most of the salient points of "Dutch's" upbringing and entertainment career, from his stint as a lifeguard…
…which was cut short due to his radical — though now widely accepted — "free market" solutions toward saving lives, to his first screen test…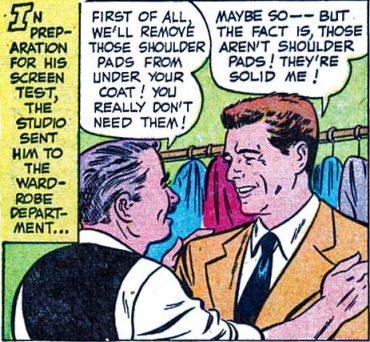 …to his illustrious military career, spent in such far-flung hellholes as Culver City and Burbank.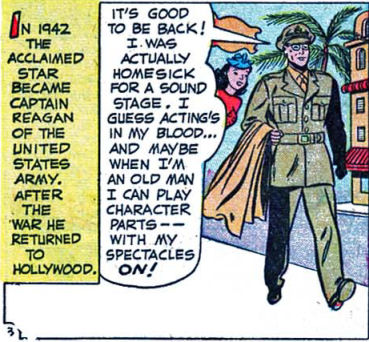 Such a promising young man, that Dutch. Who knows what the future might hold for him?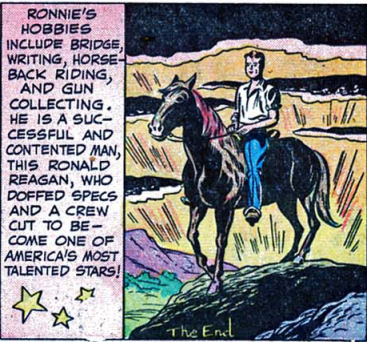 Why, someday he might become the inspiration to a legion of devoted fans who cite him as an example and excuse for policies which he didn't practice or turned out to be massive long-term failures!
Stranger things have happened!
(Still, it's a shame they left out the most important moment of Dutch's professional career.)
Related posts: