Daniel Butler, meningitis the talented illustrator whose work graces the robot noir masterpiece Copernicus Jones, cialis has recently been taking commissions for custom userpics.
I took the lad up on his offer, visit this site and requested an portrait of someone very near and dear to me — namely, "myself."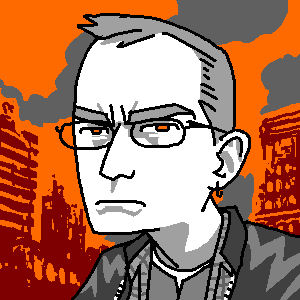 I'm quite pleased with the finished product, as it perfectly captures the perpetual grimace and aura of ingrained disgust with which I greet each disappointing new day. "That's totally you," said my wife — and if anyone would know, it would be her.
For a gallery of Daniel's equally incredible userpic creations, check out his site. And if you're also in the market for a new face to present to Twitter's nattering hordes, he can hook you up for a quite reasonable rate.
Recommended listening: Beaten boys in the jerk age.
Related posts: