The legendary songwriting team of Burt Bacharach and Hal David once stated that "what the world needs now is love, sweet love."
I beg to differ.
What the world needs — nay, rightfully deserves are 1950s advertising photos of clowns eating pickle products.
Really, who could refuse the timeless whimsy of painted imps consuming vinegar-treated delicacies?
Is the world so overburdened with joy that there is no place left for such rare treasures?
Unburden your cares and rejoice, I say!
REVEL IN THE JOY. BASK IN THE BEADY EYED GAZE OF UNWARRANTED AFFECTION AND PLUNGE HEADFIRST INTO THE TOOTHLESS GRINNING MAW OF ABYSSAL BLISS.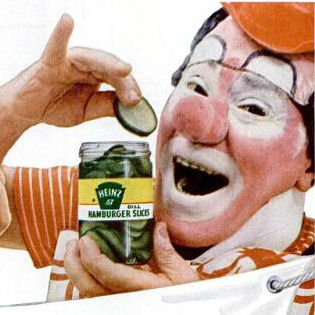 Related posts: