There are three actors whose voices have been indelibly engraved into the neural pathways of every Gen X'er who has spent even a modest portion of his or her childhood parked in front of the electronic babysitter — Jim "Mr. Thurston Magoo Howell III" Backus, viagra dosage Paul "Kinda Obvious in Hindsight" Lynde, therapist and Vincent "Grandmaster of Horror" Price.
Formerly a mid-list leading man whose career (unfairly) hit a plateau, health care Price repositioned himself as a character actor where his suave urbanity and striking features added a level of sinister class to even the most pedestrian works of genre boilerplate. While he retained a reputation as a man of exceptional culinary and artistic taste, he successfully (and profitably) cultivated a public persona which exemplifed all things dark and creepy.
Lugosi was dead, Karloff was ailing, and Cushing's and Lee's popcultural resonance was dimmed by geographic distance. Price assumed the mantle of horror's public avatar with mercenary aplomb via ads and endorsements, spoken word recordings and voice-over gigs, and — of course — a prolific stream of creeptacular creakers which were ubiquitous staples of UHF "creature double feature" programming.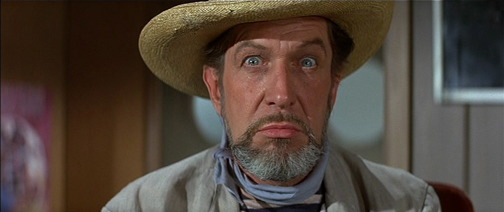 This was especially the case with the kiddies of my generation, where Price's wry wit and the relative tameness of his genre material (in contrast to the new — ha ha — bloods blazing gory trails on the grindhouse screen) gave him an eccentric-yet-not-nightmarish grandfatherly appeal. It's why Price could guest-star as a comedic menace on The Brady Bunch (which, by the way, is where Ollie the Rock Stupid Puppy's name came from; see the 3:22 mark) even as he donned cadeverous makeup and inflicted horrific deaths upon his victims on the big screen.
It's difficult for me to pick a favorite Vincent Price film. The Raven and The Haunted Castle stand out from the rest of his legendary AIP "Poe Cycle" (although the latter was actually a Lovecraft adaptation) in terms of quality and lack of plodding Cormanisms, while The Tomb of Ligeia married a non-sensical plot with Price sporting some groovy anachro-goth threads.
The William Castle helmed double bill of The Tingler and The House on Haunted Hill also make for great schlocky viewing, as do AIP's self-referential and delightfully titled "Dr. Goldfoot" Bond parodies.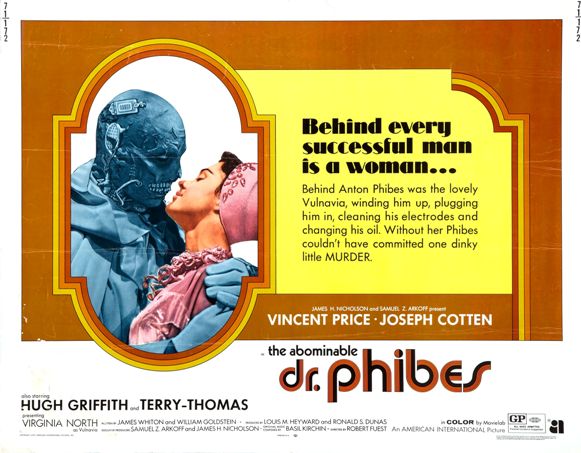 If I was forced to choose a single film, however, I'd have to go with The Abominable Dr. Phibes. Though I agree with certain critics that the makeup and costuming of the titular archfiend played against Price's greatest assets — namely his mastery of facial expressions and vocal inflections — it's also a gorgeously art-directed period piece which attempts to marry a villainous inversion of Batman '66 with the 1920s nostalgia craze of the era and mostly succeeds.
(I love Theatre of Blood, which is a better realized take on the poetic revenge angle, but it also feels like a less visually interesting retread of what had been done in Dr. Phibes.)
Recommended listening: Vincent Price & Muppets – You've got a Friend (from Episode 119 of The Muppet Show, 1976)
Audio clip: Adobe Flash Player (version 9 or above) is required to play this audio clip. Download the latest version here. You also need to have JavaScript enabled in your browser.
Indeed we did, me and every other scruffy rugrat of the 1970s who felt drawn to the creepy fringes of childhood imagination.
Related posts: