"Down Back" is what we used to call the large tract of semi-wilderness that stretched from my grandparents' ramshackle estate northward to the Wilmington border. In Woburn's years as a tannery town, the space was occupied by railyards, stone structures for drying hides, and chemical plants. These had all but vanished by the time my buddies and I adopted the place as our personal refuge from adult supervision, though enough traces remained to add an intoxicating (and just plain toxic) element of dangerous adventure.
Down Back's ambiance as a post-industrial playground was enhanced by its role as our neighborhood's de facto dump. I'm not sure why it assumed this function, as Woburn's legitimate landfill was only a stone's throw away and was wide open to wildcatting refuse depositors. I guess it's just human nature that "close" will always be trumped by "closer," and thus the sandy scrublands and pine barrens found themselves playing host to scores of illicit rubbish piles.
Much of the garbage was construction-related — lots of scrap lumber, busted drywall, and carpet scraps from which we assembled countless dangerous and shoddy tree forts. Occasionally other oddites would appear, however such as the inventory of a defunct bakery or the entire contents of some teengage boy's room circa 1977. It was in the latter that my buddies and I found a stack of dog-eared issues of Oui and — most importantly from young Andrew's standpoint — an assortment of funnybooks which included a coverless, water-damaged copy of Iron Man #83.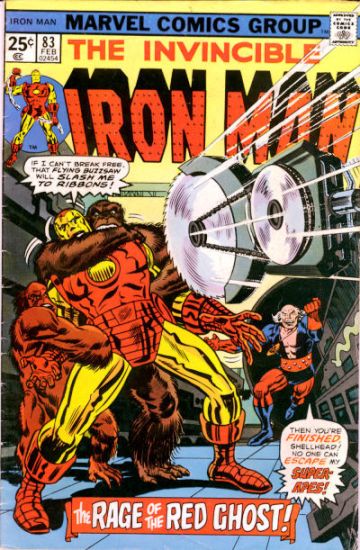 Though the paper had entered mid-stage disintegration and stunk of grave mold, the story inside was still readable. And what a read it was — Tony Stark facing down the Red Ghost and his commie Super Apes in a tale written by Len Wein and illustrated by the killer art team of Herb Trimpe and Marie Severin.
I absolutely adored it, yet something smelled…off…about it, and not just the moldly newsprint.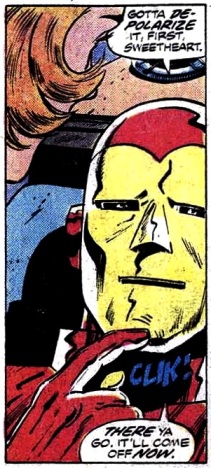 There was a sense of strangeness that I couldn't quite…sniff..out.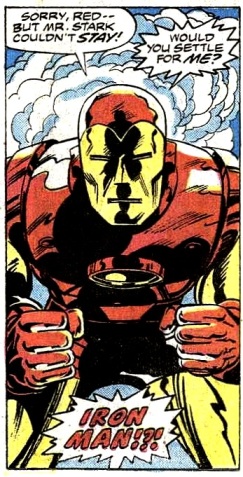 I picked and probed for weeks, digging even deeper into the dark reaches of my skull to put my finger on it.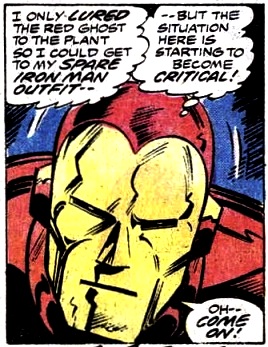 And then it expelled itself of its own accord. Why did Iron Man have a nose?
The answer, according to Sean Howe's excellent Marvel Comics: The Untold Story, is because Stan Lee decreed it. Though Stan had shifted from the creative role to a marketing one by early 1970s, he still found time to descend from the lofy realm of lecture tours and Hollywood PR junkets to arbitrarily assert his powers as publisher.
Stan thought Iron Man ought to have a nose and therefore Iron Man sure-as-shinola got himself set up with a gleaming gold schnozz. Comics being beholden the the precepts of "continuity" (which is to say "the obsessive-compulsive disorders of overinvested manchildren") the newly reforged Smellhead was given a properly bombastic debut, complete with overheated cover blurb, in Iron Man #68.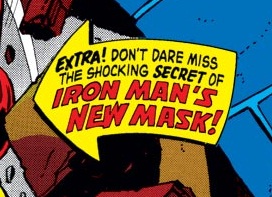 As "editorial edict" would have been a bit too meta for the funnybook fans of 1974, the "shocking secret of Iron Man's" new mask" was that the plexiglass shields in the Armored Avenger's helmet cracked during a deep sea mission to roust the Mandarin. Since Tony Stark already had to whip himself up a new one made of stronger materials, he decided to throw in a pointy metal nose for "fearsome" effect.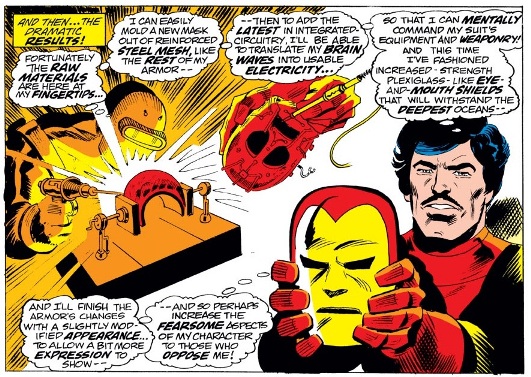 This was before Tony laid off the sauce, for the record.
It wasn't just that the Iron Nose was goofy as hell and difficult for artists to render in a remotely convincing manner, it also instilled that unconfortable sense of congnitive dissonance that comes whenever somebody decided to muck with the aesthetics of an icon. The Iron Man armor has gone through numerous and radical changes over the past five decades, yet has managed to maintain a sense of visual continuity. The faceplate design is a big part of that, and the addition of a nose disrupted that visual continuity in the most laughable way imaginable.
Poor Iron Man retained his molded proboscis for just shy of two years before Lee reversed himself and decreed the absurd apendage be forever stricken from the faceplate and cast into the musk-scented realm of Nose-body's Favorites…until Iron Man 3 hits theaters, that is.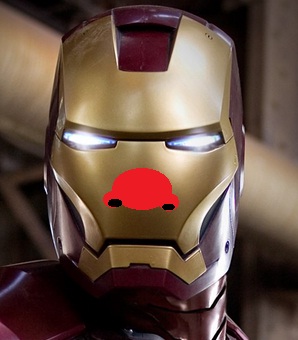 Related posts: