My journey through LIFE's digital archives has reached the mid-1960s, which means I get to have the fascinating (and maddening and facepalming) experience of witnessing the mosaic of the decade's legendary (as in "historic" and "aggressively mythologized") countercultural movement laid down one condescending feature article at a time.
One of these pieces chronicled the rise of the "protest rock" movement which came on the heels of Bob Dylan's controversial decision to "go electric" and the currents of discontent bubbling up at the fringes of the era's youth culture. In addition to Dylan, the article covered such footstep-followers as Barry McGuire, the Byrds, the songwriting team of Mann and Weil, and…well…Sonny and Cher.
While the tone may have been bemusedly dismissive towards "the kids" and their "unrealistic idealism," it still displayed far more restraint than later mainstream journalism efforts about the emergence of punk, metal, and hiphop scenes. The most pungent glob of bile about the emerging trend was lobbed in LIFE's letters a few weeks later (11/26/1965) by an aggrieved fan of "real" protest music.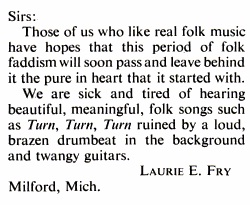 I must have missed the bit in the original article about shaggy banged stormtroopers busting into folkies' houses and replacing their copies of The Kingston Trio #16 with Mr. Tambourine Man.
To be honest, folk music of the mid-century coffeehouse variety is probably my least favorite musical genre. Pete Seeger is okay in my book, as are Woody and Arlo Guthrie, but I prefer my songs of protest unsanitized, raw, and not coming from someone who looks like they'd fink you out to the principal for scrawling "BOOBS" on the boy's room wall.
(It also doesn't help that most of that era's popular folks acts sound so white that they make barbershop quartets look like James Brown in comparison.)
Folk rock — as practiced by the likes of the Byrds and Beau Brummels — I absolutely adore, however.
My love of the Byrds managed to sustain itself through my subcultural romances with the punk, metal, and goth scenes. No amount of lazy nostalgic shorthand or commercial appropriation could ever suppress the chills I feel whenever it hear the gorgeously jangly opening bars of this reinterpretation of a Seeger classic…
"Ruined," my pink Swedish ass.
Related posts: