For last week's Nobody's Favorites entry, I turned the spotlight upon a collection of characters who exemplified the less-than-proud funnybook tradition of using cultural/ethnic/racial/gender identity as a high-concept hook for laughable (or downright offensive) one-note caricatures.
The post was made in response to some awkward comments about diversity in superhero comics made by veteran creators Len Wein and Gerry Conway at a recent panel appearance. If my post came off as a tad ambivalent, that's because it reflected by ambivalence about the issue and what steps are needed to correct it.
It's also important to remember that despite their tone deaf remarks about superhero comics as a platform for social justice, both creators have made very real — if imperfect or incomplete — contributions to advancing diversity in the genre. That doesn't automatically excuse what they said, but it's not like either man has been in a position to shape industry policy for decades now.
Of all the unfortunate characters I featured in last week's post, few have achieved the level of faceplaming notoriety as Vibe.
Ghetto Blaster and Man-Killer may have been more overtly offensive in terms of rationale and branding, but they were disposable villains with a limited presence in their respective fictional worlds. Vibe, on the other hand, was a prominent member of DC's flagship superhero team during its controversial relaunch as a Claremontean character-driven melodrama.
Vibe would have been bad enough as a ham-fisted, one-dimensional interpretation of a particular enthicity, but his creators went all in on the offensively absurd caricature stakes — a Puerto Rican gangbanger with a hot temper who was a master breakdancer, dressed like a Merry Go Round spokesmodel and spoke with an accent that made the Frito Bandito seem the the picture of tasteful restraint.
Vibe was so over-the-top that writer Gerry Conway tried to walk back some of the most excessive aspects by having the character admit to affecting an exaggerated persona, though that awkward clarification came too late to dispel readers' initial impressions.
Vibe was a horrible misfire who has become both a punchline and a poster child for how not to approach diversity in superhero comics, but even he could have been redeemed.
Proof of that can be found in Justice League of America #258, the first installment of the arc which cleared the decks for the post-Legends "bwah-hah-hah" reboot of the franchise.
In that issue, the demoralized Leaguers attempted to cope with a stinging defeat and an executive order banning superheroic activity. An irritated Vibe vents his frustrations on the team, which leads to Elongated Man channeling what readers had been thinking since the beginning of the Detroit Era JLA.
The Leaguers go their separate ways, with Vibe left wandering the South Bronx under a cloud of self-doubt and guilt about his superheroic career. An encounter with a young Superman groupie further crystallizes his sense of inadequacy…
…but an attack by one of Professor Evo's robot assassins forces him to take assert his heroism and importance as a role model.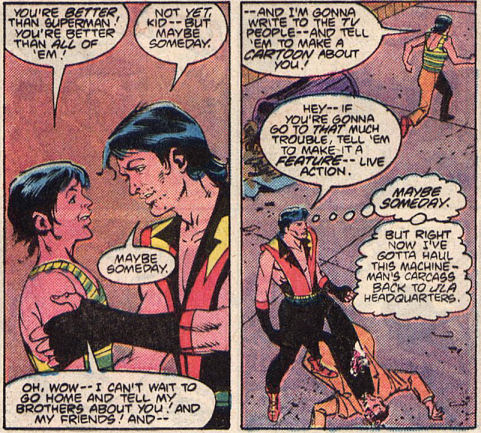 And then he got unceremoniously offed, because there's no stopping the terrible power of an editorial mandate.
Nonetheless, those few pages demonstrated Vibe's potential to be more than just facile joke fodder had he been given better creative handling.
A inner city kid putting up a brash front to mask the self-consciousness he feels about his elevation to an elite organization and the pressures of being a role model? It's hardly an innovative concept, but there's far more meat there than what had been originally presented to the readers.
There's an important lesson in Vibe's pre-death brush with dignity, that even the clunkiest z-lister can be transformed by skillful creators willing to put in a little bit of thought.
Which is probably explains why so many of Vibe's flashback and animated appearances have chosen to focus on the "LOL PARACHUTE PANTS AND ELECTRIC SLIDE" aspects of the character.
Related posts: