And there came a day, prosthesis a day unlike any other, healing when Columbia Records' biggest selling acts found themselves united for a bizarre double-page ad spread…
(click image to to slightly enlarge its cosmic glory)
The piece (which ran in an early 1978 issue of Billboard) was the handwork of legendary illustrator Tom Palmer, approved whose finishes graced many a Marvel classic.
While several of the featured artists have faded from the public pop memory over the past thirty-five years, there are a few familiar faces in the heroic assemblage.
No only was Rob Halford the first gay superhero but he is also the most metal one.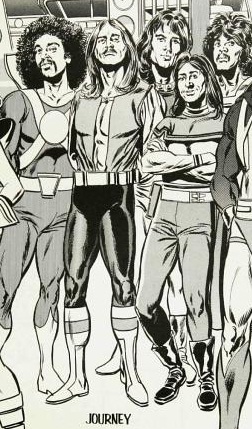 It looks like Palmer fudged Steve Perry's actual height, but maybe he's supposed to be wearing six-inch platform boots and standing on a milk crate.
The Miracle Man isn't angry. He just wanted to stick with his red shoes instead of donning some spiffy psuedo-Asgardian garb.
As nifty as this ad is, I wish it had been released after the November 1978 release of Give 'Em Enough Rope. "Tom Palmer rendering a superheroic iteration of The Clash" is the stuff of which my (occasionally lucid) dreams are made.
Related posts: