There are a number of worthy candidates for Nobody's Favorites which have been on my "to do" list since the debut of this feature back in the summer of 2009. Some have been back-burnered until I can find a workable angle of approach that doesn't simply rely on lazy snark. Others have been left on the shelf because I lack the patience and will to trudge through their terribleness in the name of research.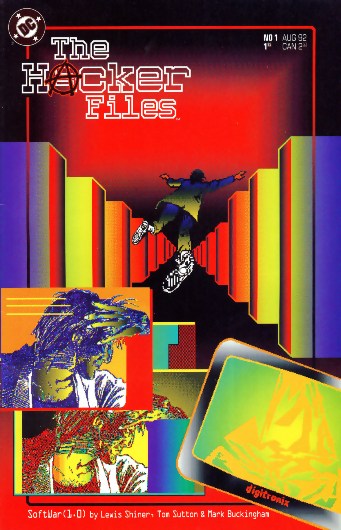 The Hacker Files is squarely within that latter category.
The twelve issue miniseries was written by Lewis Shiner, one of the movers and shakers of the 1980s "cyberpunk" fiction trend, and drew upon one of the novelist's unpublished manuscripts as well as real-life events. If you couldn't guess from the title (complete with a "circle-A" for x-tra edginess), The Hacker Files dealt with the shadowy realm of code-savvy wizards capable of manipulating the parameters of the Bold New Information Era in which we live.
The series made its debut in 1992, shortly before "the internet" broke big as a wide-spectrum transformative force. The early inklings of that coming paradigm shift begun to bring awareness of hacker culture — which had previously been given masscult facetime in WarGames, Ferris Bueller, and..um..Superman III — to the fore.
Yet while those network-savvy outlaws possessed (in the popular imagination if not in reality) unparalleled powers to exploit the system, the actual implementation of their abilities was less than dramatic, mostly involving automated processes or a sequence of less-than-sexy keystrokes. In the realm of cyberpunk prose, such quotidian actions could be granted an enthralling immediacy through the lyrical prose of folks like William Gibson, Neal Stephenson, or Shriner himself. Depictions of hacker activities in visual media, however, felt obligated to sex things up in ways that have since become the stuff of comedic hindsight.
Shiner refused to have anything to do with such nonsense in The Hacker Files, and took pains to ensure that the technology and principles used in the series remained rooted in reality. This commitment to verisimilitude may have been well-intentioned, but it did lead to an absolutely stultifying reading experience where folks rattle off computer jargon to each other for interminable stretches of time. I have doubts about how well Shiner understood the advantages of comics as a medium, as The Hacker Files reads more like an illustrated prose piece. Dense walls of text were layered over Tom Sutton's art (which was working an early form of the aesthetic that would become to 1990s Vertigo what Sal Buscema's was to Bronze Age Marvel) and some painful examples of what passed for CGI in the day.
Jack "Hacker" Marshall, a brilliant techie who resembled a heroic chic version of Peter Boyle in Young Frankenstein, goes the cyber cowboy route after getting screwed out of the fruits of his technical genius. To this end, he gathers together a cadre of teenage whiz kids (including a "metalhead" bearing the Biafran handle of "Sue Denim") to strike back against the usual stable of sinister conspirators — evil corporations, corrupt government agencies, organized crime cartels (represented by the Yakuza, of course), and a rogue artifical intelligence. The nonsense concludes on a winceworthy note which was swiped from echoes two other very familiar works.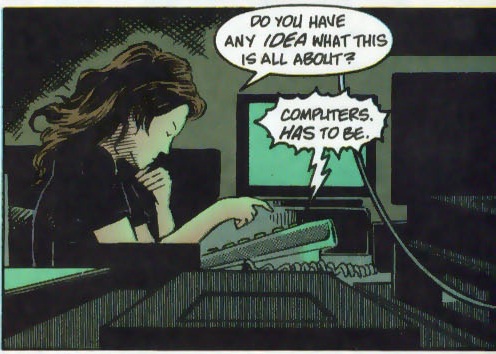 They also threw in an appearance by Justice League Europe and the DCU's O.G. hacker, Barbara "Oracle" Gordon, for likely the same reasons that the sixth season opener of Diff'rent Strokes threw in a guest appearance by Mr. T.
The Hacker Files is a mildly interesting artifact of computer culture just prior to the dawn of the Internet Age. Unfortunately, that aspect is wrapped up in an uninspired slog of funnybook which slots perfectly into the 5.25 floppy drive of Nobody's Favorites.
Related posts: