Hey, everyone! Meet Captain Flash!
The character was the product of the amorphous transition period between the Golden and Silver Ages of Funnybooks, a tumultuous era when the financially (and politically) harried comics industry threw a variety of genres against the wall in hopes that something might stick. These acts of desperation included some scattershot attempts at reviving the superhero craze of the previous decade, which had — apart from a handful of popular, merchandisable characters — fallen out of favor by the dawn of the Eisenhower Era.
Captain Flash was one of these attempts, foisted on the reading public by Sterling Comics (no relation) via a four issue series which ran from late 1954 through middle of 1955. The good adequate Captain was a nuclear physicist named Keith Spencer who experienced a Louis Slotin moment when he was directly exposed to a lump of radioactive material during a lab accident.
Resigned to a slow, painful death from radiation poisoning, Spencer secluded himself in his suburban ranch home to tend roses and await the inevitable end. It was there that the unfortunate scientist discovered unusual side effects from his atomic exposure — boosted vitality and superhuman strength which could be temporarily amplified further by clapping his nuclear-charged palms together. Embracing his rebirth as an immortal atomic ubermensch, Spencer vowed to use his ability to thwart the forces of evil and defend his beloved Atom City ("America's Cancer Capital since 1951!").
Unfortunately, he shouted said vow in within earshot of the nosy brat next door, which is how the newly dubbed Captain Flash got saddled with "just plain Ricky" as the most useless of kid sidekicks.
Though the Captain's costume and origins prefigured what that would become standard tropes of the Silver Age, the stories in which the character appeared were strictly old school boilerplate. Static and muddy page layouts (by Mike Sekowsky, who did much better work elsewhere) brimming with walls of expository dialogue relayed modestly contemporized Golden Age tales about petty thugs, evil scientists, and marauding monsters.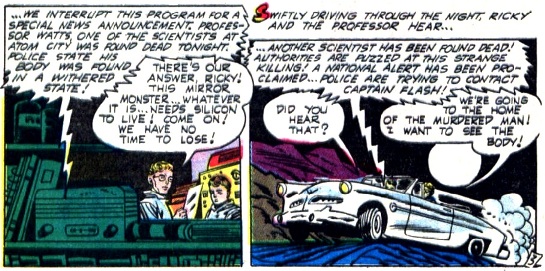 Compared to the dynamism and sci-fi elements that would characterize National/DC's superhero revival, Captain Flash comes off as a quaint-but-not-close historical anomaly to be relgated to the dusty halls of Nobody's Favorites.
Related posts: