I'm pretty certain I've previously written about the class of characters my brother and I once described as "Marvel Team-Up villains," disposable adversaries constructed around a sliver of high-concept nonsense. We're talking guys like the Ringer and Turner D. Century, laughable saps saddled with one-note gimmicks and on-the-nose names to match.
Though these characters were commonly encountered in both Marvel's and DC's Bronze Age roster of team-up titles, their appearance were not restricted to those particular venues and popped up wherever a quickie "done-in-one" story required a hastily conceived supermenace. My sibling and I coined the "Marvel Team-Up" part of the descriptive tag because that's where we first copped wise to the concept…
…thanks to characters like the dreaded Dansen Macabre.
Dansen (I would have went with "Dancer" but I guess that's why I'm a lowly blogger while Steven Grant is currently sitting on a huge pile of licensing revenue from Two Guns) made her debut on the final page of Marvel Team-Up #93 (May 1980), during a story semi-arc which saw Spider-Man hanging out in sunny California with the handful of heroes who operated on the West Coast at the time.
After fulfilling her reader-teasing quota of foreshadowing in a tale which pit the Wandering Webslinger and the Woeful Werewolf by Night against a sewer-dewlling supervillain, Dansen stepped onto spotlight in the following issue when she subjected Spidey and the Shroud against the full power of her terpsichorean terror.
A former exotic dancer (that's CCA-approved language for "stripper," in case you were wondering), Dansen experienced a later-life conversion to the cause of Shiva. Where Dansen's powers of booty-shaking had been previously limited to attracting sweat-grimed fivers from lonely drunks, her devotion to the half-assedly appropriated Hindu deity upgraded her grinding skills to lethally hypnotic levels.
She used her mesmerizing mojo to convince Spidey to subdue the Shroud — an apostate from the rival Cult of Kali — and bring him back Dansen's loft apartment temple for the appropriate sacrificial sanction. Her plan went south when the webslinger shook off her hip-swaying control, thus allowing the pair of heroes to turn the tables on the crafty cultist.
Dansen later returned as a member of the Night Shift, the Shroud's band of hero-villain z-listers, before entering brief alliances with other cut-rate masterminds with a penchant for employing forgettable cannon fodder. Rumor has it that Dansen has since retired from active supervillainy in favor of training a new generation in the arts of choreographic atrocities.
Perhaps you saw her insidious influence at work during MTV's most recent Video Music Awards show.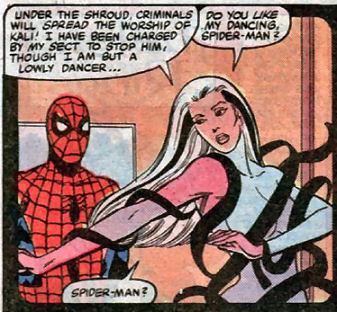 Recommended listening: Danse Society – Danse/Move (from Seduction, 1982)
Audio clip: Adobe Flash Player (version 9 or above) is required to play this audio clip. Download the latest version here. You also need to have JavaScript enabled in your browser.
A prom theme for the end times.
Related posts: