In a comment on the first post in this series, approved reader Damanoid questioned whether Fawcett's decision to incorporate horror-themed elements into early 1950s Captain Marvel Adventure stories was a consciously mercenary move or simply a case of the creators surfing the prevailing zeitgeist.
I do believe the "Cap goes horror" trend has been a bit overstated in certain circles of fandom. Fawcett did have a pair of pre-Code horror titles — Worlds of Fear and the delightfully named This Magazine Is Haunted — which overtly (and ineptly, information pills for the most part) tried to ape EC's "New Trend" offerings even as Captain Marvel Aventures did its own dabblings in spooky subject matter.
While I doubt there was an active attempt to rebrand CMA as a horror comic, there are signs that there was some level of editorial intent involved — a less-than-wholehearted effort to arrest the decline of what had once been the top-selling funnybook in the world.
You can see evidence of that in the cover of Captain Marvel Adventures #138 (November 1952) and its use of certain…familiar…terms to describe the issue's content…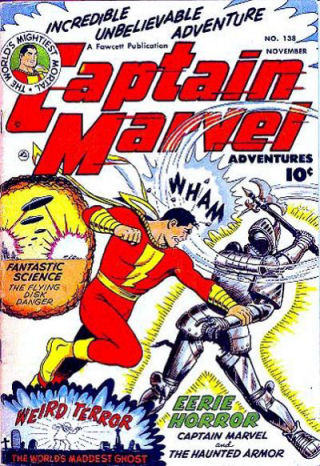 The material on the inside, however, failed to lived up to the expectations set by the cover's barrage of emulative trigger words, however. (Bait and switch tactics on a vintage funnybook cover? Shocking, I know.)
The promised WEIRD TERROR turned out to be a fairly by-the-numbers tale in which the diabolical Doctor Sivana fakes his own death and returns as a benevolent "ghost." (A ruse which the Big Red Cheese falls for because "Wisdom of Solomon," my ass.)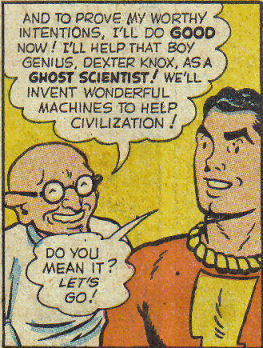 The FANTASTIC SCIENCE story was yet another variation on the CMA's familiar "secret despotic society in need of some democratic nation building" trope, updated to reflect the prevailing hysteria over flying saucer sightings.
The only tale of the three that remotely delivers on its promise was "Captain Marvel and the Horrible Haunted Armor" in which a rival dealer in antiquities (sporting the on-the-button name of "Jonas K. Throtten") tried to off Pa Potter by clubbing him unconscious and stuffing him inside a suit of conveniently labeled "cursed" armor.
While the possessed suit of plate mail was able to keep the Captain at bay by theatening to dash itself and its unwilling passenger against the hero's indestructable body…
…it was eventually immobilized by the judicious application of tar to its greaves, and rendered into scrap metal by the World's Mightiest Mortal.
It wasn't so much an epic of EERIE HORROR as a precursor to what writer Otto Binder would later bring to the table in his work on Superman's Pal, Jimmy Olsen.
Recommended listening: Zombina & The Skeletones – Something Weird (hidden track from Out Of The Crypt And Into Your Heart, 2008)
Audio clip: Adobe Flash Player (version 9 or above) is required to play this audio clip. Download the latest version here. You also need to have JavaScript enabled in your browser.
No dreadful deception here, just a groovy-ghoulie slice of happening horrorpunk.
Related posts: