No exploration of Gen X childhood fears would be complete without an appearance from this individual of wealth and taste…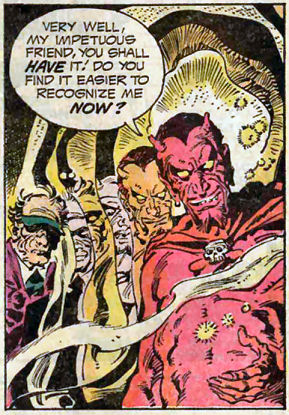 The 1970s were a boom time for Satan and his manyfold media manifestations. Films, comics, TV, books, or pop music — it seemed like Ol' Scratch was everywhere, serving as the unsettling muse of the Me Decade.
Heightened awarness of the Horned One has traditionally been a symptom of apocalytic anxieties, and the 1970s had such sentiments in spades. The violent flameout of the 1960s countercultures and their incomplete attempts at social transformation left legacies of uncertainty and moral panic which persist through the present day.
The old social order was only partially upended, with battle lines drawn and siege mentalities adopted even as limits of utopian, post-WW2 dreams of consumer capitalist prosperity came crashing up against the realities of a shifting global economy and the scarcity of resources. From that widening gyre, a familiar boogeyman emerged.
For us kids who weren't exactly versed in the lingo of cultural historians, however, what it meant was a whole lot of diabolically-themed nightmare fuel was beamed straight into our developing gray matter. The longest shadow (unless you happened to be from a fundamentalist family who took Satantic threats to a whole 'nother level) was cast by The Exorcist — the horror flick of the 1970s and still a fairly recent media phenomenon.
Even if one's experience of that film typically came through the distorted lens of eighth-hand playground lore, there were plenty of other backchannel vectors — from Oujia boards to the spraypainted pentagram on the wall of the high school gym to stories of what Kiss (or Ozzy or Jagger or Blue Oyster Cult) were getting up to behind closed doors — to reinforce the terrors of an the Invisible World. Every neighborhood had a "devil house" complete with fearsome tales of dark rituals and other creepy goings-on.
Religious beliefs, of the lack thereof, did not automatically grant immunity from those fears. Even today, after three decades of atheism and skepticism, I can smell a whiff of brimstone and feel a touch of the ol' black magic whenever I come across some paperback artifact of that most occult of times at a used book sale.
Recommended listening: The Swing West – Fire (from GS I Love You: Japanese Garage Bands of the 1960s
, 1996)
Audio clip: Adobe Flash Player (version 9 or above) is required to play this audio clip. Download the latest version here. You also need to have JavaScript enabled in your browser.
The Crazy World of Arthur Brown meets The Land of the Rising Sun.
Related posts: