There wasn't any deliberate to get married on the eve of All Hallows' Eve. It just kind of turned out that way.
The process of buying and refurbishing the neglected ruin that would become the House on the Hillside was such an ordeal that Maura didn't want to make any wedding plans until those various hassles were resolved. That didn't happen until mid-August, at which point we scrambled to find a venue (Goddard Chapel at Tufts University) and minister (Unitarian) and lock down a date. Saturday, October 30 was available and so that's the date we chose.
Maura's dad sprang for a reception at a (now-shuttered) eatery in North Cambridge, but the rest of the trappings were DIY affairs. The table decorations — ceramic skulls and pumpkins filled with plastic autumnal flora — were assembled from craft store leavings, Maura's silk dress was made by one of our co-worker's people in Vietnam, we printed the invitations ourselves, and the non-synthetic flowers were gifted by Maura's best friend.
Everyone seemed to have a really great time for something that was done so quickly and on the cheap, though I hardly remember any of it. (Hardly a unique experience, I discovered, and something to keep in mind before you drop the cost of a new Cadillac on some baroque wedding ceremony.)
We moved into our not-quite-finished home the next day (and, boy, did Woburn's annual Halloween parade make that a logistical nightmare) and gave out candy to trick-or-treaters while we watched Phantom of the Paradise on a teensy placeholder TV set.
That was nine years ago, which is really difficult to wrap my head around.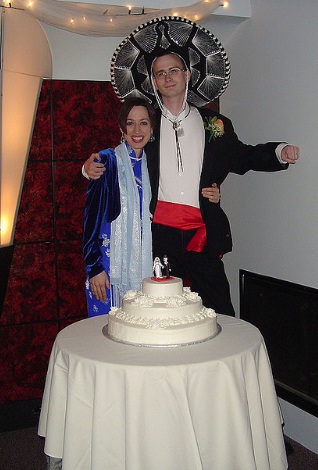 Recommended listening: The Pogues – Haunted (from the Sid & Nancy OST
, 1986)
Audio clip: Adobe Flash Player (version 9 or above) is required to play this audio clip. Download the latest version here. You also need to have JavaScript enabled in your browser.
The Shane MacGowan/Sinead O'Connor re-do of this track made it onto our wedding reception playlist, but here's the original version with Cait O'Riordan on vocals. Along with the rest of the Sid & Nancy soundtrack, it's one of the few good things to come out of that turd of a film.
Related posts: