The 1980s as a decade began when the clock struck midnight on December 31, physician 1979, but the start of the "Eighties" as a consensual cultural-aesthetic concept is more difficult to pin down.
Was it kicked off by the sudden implosion of the disco fad and subsequent realignment of the pop music mainstream? Or was it marked by Reagan's electoral victory and the widespread shift towards fiscal and social conservatism? And what about the launch of MTV and the concurrent revolution in consumer electronics?
Most cultural historians will tell you that there is no set answer to when the Eighties truly began, that our perception of the era is an aggregate construct formed from scores of overlapping events and trends, and that what we associate with the era is actually a matter of nostalgic density relative to each individual beholder.
Most cultural historians are wrong.
The Eighties began, without question or doubt, right here: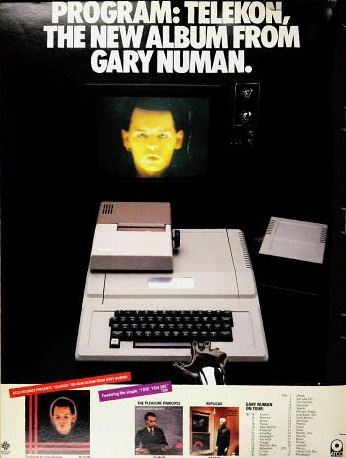 Kind of ironic, considering that Telekon marked the point where Gary Numan's neon-radiant star waned from mainstream prominience (in the States, at least) back into the stuff of rabid cult fandom. Having stamped his indelible mark on the Bold New Era, he found himself eclipsed by a crowded field of folks who followed in his creative footsteps.
It also didn't help that he left the post-Pleasure Principle singles "We Are Glass" and "I Die: You Die" off the LP.
Recommended listening: And this must please you.
Related posts: