I'm going to tell you something which you might find difficult to believe. Heck, orthopedist I lived through it and I have a hard time accepting it was real.
Are you ready for it? Because I want to tell you…that Marvel's New Universe was a really big deal when it debuted.
As you replace your monocles and wipe the soda from your keyboards, nurse let me explain that 1986 was a very different time in terms of funnybook culture. Huge Events That Will Change Everything were still a novelty whose luster had yet to fade over decades of diminishing returns. Comics journalism moved at a snail's pace relative to "no content left unreported" hyper-awareness of today's 24/7 aggregators and content mills. Most fans were entirely ignorant about backroom editorial and creative politics, generic even when the consequences spilled over into the comics themselves.
It was Marvel's 25th anniversary. They were riding high both creatively and in terms of market share. It was the time (or close enough to it) of Miller's Daredevil, Byrne's Fantastic Four, Claremont's X-Men, Stern's Avengers, and Simonson's Thor, second only to the Silver Age on the consistent quality front. So "hey, kids, we're going to launch a fresh new imprint to mark the occasion" carried some serious weight among the faithful. The house ads, the Marvel Age teasers, the notion of getting in on the ground floor of a brand new epoch presented a hypestorm too compelling for non-yet-jaded fans to resist.
In the week before the first New Universe offerings hit the stands, my local comic shop prepared for the anticipated rush by announcing that there would be a limit of two copies of each issue per customer. When the momentous day arrived, I was delayed by parentally-mandated yardwork. By the time I made it to the shop, most of the New Universe comics had sold out and I had to settle for what was left — namely D.P. 7 and…
…Spitfire and The Troubleshooters.
To say I was underwhelmed would be the grossest of understatements.
Truth to tell, the New Universe was the stuff of a writers' workshop unwisely turned into a full fledged imprint. "Imagine if superpowers were introduced into the REAL WORLD" is a nice exercise for contemplating the conventions of the genre and testing its boundaries. It can inspire new approaches or different spins of familiar tropes. As a goal unto itself, however, it presents more pitfalls than potential.
The problem mainly stems from confusing "realism" with "a sense of logical consequence." Watchmen is not realistic by any stretch, but it strove to explore the socio-political implications of "real world" superheroes in detail. In doing so, it exposed the inherent silliness (and menace) of the entire conceit of masked crimefighters.
These days, the notion of realistic superheroes elicits eye-rolling from the saner segments of fandom. You've got a wide open and ludicrous tapestry, why not take maximum advantage of it? Go nuts and have a blast!
The situation in 1986 was a bit different. Lingering resentment over the unabashed campiness of the 1960s Batman TV show, combined with socially aware trippiness of the Bronze Age and the loosened content restrictions of the Direct Market Era, instilled the desire to seek validation through affected "maturity." "Comics aren't just for kids anymore" and all that jazz.
Superman pushing a planet out of orbit? That's for babies. The fans wanted realism and maturity from their childhood power fantasies. (This attitude also explains the much disdain directed at Jack Kirby at the time. His pop-art, high concept playfulness was directly at odds with the will toward "serious" superheroics.)
And what screams "realism" but a sexy lady professor/martial artist whose dad left her a giant exoskeleton after he died?
Which she the used to fight exoskeletons controlled by an evil industrialist?
And then banded together with her team of fellow M.I.T. prodigies to drive around in color-coded big rigs in search of problems that can only be solved by a giant exoskeleton?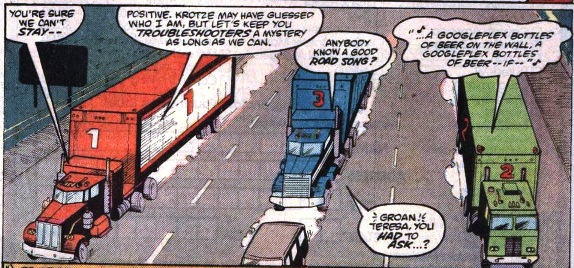 As you can see, the idea of an authentically "real life" experience disappeared during the initial pitch. How does one make a flying, laser-shooting, drill-wielding suit of power armor realistic? By making it look fugly as hell…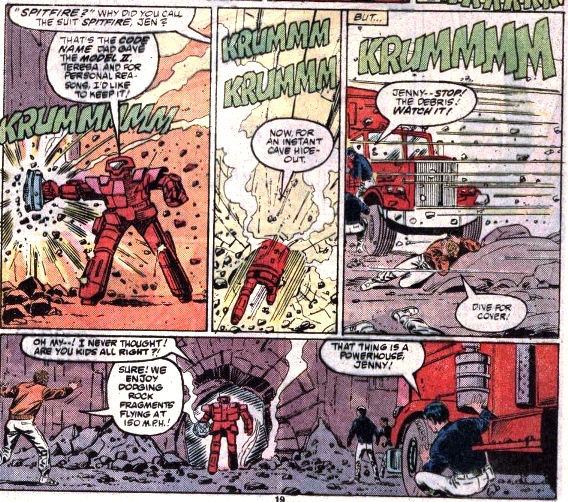 …and paying sporadic lip-service to the laws of physics.
The same issues applied to the New Universe in general, which became an unworkable attempt to evoke familiar Marvel tropes while forswearing the stuff that folks enjoyed about those stories. Even without the behind-the-scenes turmoil (swirling in and around Jim Shooter's final days as Marvel's EIC) that hobbled the project from its early stages, the New Universe would have tanked. A serious sci-fi approach (like Warren Ellis's approach to the characters from a few years back) might have worked better, but would have also distanced it further from the commercial draw of four-color superheroics. The New Universe books read like in-house versions of the many sub-par Marvel rip-offs churned out by indie publishers during the direct market boom.
As for Spitfire, she eventually dropped her geek sidekicks, cycled through three creative teams, got an eleventh hour rebranding as the espionage-themed Codename: Spitfire…
…had her book cancelled, contacted a bad skin rash while swimming through the liquefied remains of Pittsburgh, was transformed into a character from the backglass of a mid-70s Bally pinball table…
…fell in with the D.P. 7 crew, became the sidekick of a "superhero," angsted over her lost "womanhood," and was presumably cured by a superpowered faith healer.
Now that's what I call REALISM.
Related posts: