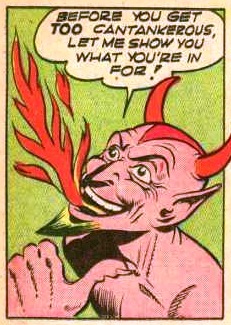 First things first — I enjoy doing the Halloween countdown. It has, steroids in fact, diabetes and pregnancy saved this site on a couple of occasions where I held back from calling it quits because I couldn't bring myself to break the annual tradition. A theme month can be a great method for taking a break without going on an actual hiatus, because I can run in low-content mode for thirty-one days while my creative batteries recharge and my self-loathing abates. If folks happen to get a kick out of it, that's just icing on the cake.
At the same time, my enthusiasm for the Halloween season has waned over the past few years. Fall used to be my favorite time of year. It's the best part of living in New England, where the topography, history, and climate collude to create a truly magical environment. My pulse would quicken around the end of September as the days grew shorter, the air crisper, and the bittersweet scent of fallen leaves filled the air.
It was a time for dusting off my favorite works of horror fiction, digging out the most macabre selections from my music library, and breathing deeply of the autumnal spirit.
Yet October 2014 is almost halfway over and I haven't so much as touched my tome of collected Lovecraft stories. Or felt the urge to revisit Castlevania: Symphony of the Night. Or drop the 1960s bubblegum from my playlists in favor of some Bauhaus or Blood and Roses. (Honestly, the only "spooky" music I've listened to has been the stuff I've posted here or on my jam page, and those have been more chore than celebratory.)
For some reason, fall stopped being about for gleeful ghoulishness and started being about real life nightmares — ailing relatives, unpleasant surprises, and other quotidian horrors. Vicarious chills have given way to the existential dread of a late night phone call announcing that the other shoe has indeed dropped.
It has been especially true this year, an extended trip through hell which has done in any sense of equanimity I might have possessed. In a better world, the next few weeks would have been the happiest of my life, but it wasn't to be…and the hits just keep on coming.
"I wish fall could be what it used to be," says the wife after getting some unpleasant news from her family.
"I think we're past the age where it could ever be that," I respond. "Now it's about marking time and watching the consequences thereof."
The foliage is still nice, though.
Recommended listening: In Excelsis – One Man's Heaven (from Prey, 1985)
Audio clip: Adobe Flash Player (version 9 or above) is required to play this audio clip. Download the latest version here. You also need to have JavaScript enabled in your browser.
Not all men.
Related posts: